Hector first visited Shahed's  (78-80 Union St, Glasgow, G1 3QS) in January 2012.  It was at the end of April that Shahed himself contacted Hector and issued the invitation to sample his Mother's cooking.  This is not an offer that comes along every day, indeed it is the first ever example of this occurring in Hector's lifetime.   We arranged a date – today – and I was permitted to bring three fellow diners.  What made the invitation all the more outstanding that it was not to be a case of The Mother coming to the Restaurant to cook; we were invited to the Family Home – The House of Khan!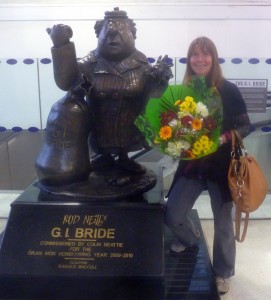 Marg of course had to be included, Eleanor is now firmly a supporter of the philosophy that 'Everyday is a Good Day to Eat Curry'. My most regular Curry Companion – Dr Stan could not be excluded. We shall restore him to his Sunday name for this auspicious occasion.  Today is also Dr Stan's Birthday, not that he let on at all, a very modest Chap.  We made our rendezvous at Partick and Marg disappeared to buy a Boquet.
Shahed sadly had to call off at the last minute.
We set off to the South Side for our evening of Domestic Curry.  We would as it turned out be entertained by Shahed's sisters Liz and Shaheen and of course – Zora, the Mother and  Chef who was ably aided by Kenny.
To invite complete strangers to one's home is certainly noteworthy, it became apparent that there is an Extended Family all of whom like nothing better than to drop in and see Zora, and be fed of course.
We were told the story of how they started out as possibly one of Glasgow's first, if not the first, dedicated Curry Takeaway Shops.  Shahed was the Prodigy Son after whom the business was named, and yes we did get to see the Baby Pictures of him and his brother Zahid.  All of the family had worked at some time in one of the soon to be two Takeaway Shops.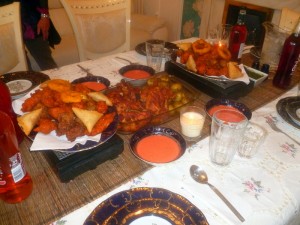 When we were taken through to the Dining Room there was a gasp – a mountain of Starters, in fact three mountains!  Assorted Pakora and Samosa was piled high on both sides of a platter containing enough Chicken Tandoori to feed the street.  In the same platter was Bombay Potato.  The customary pink Yogurt Dip was arranged around the table plus a triple tray of Special Dips.  Blended with Coriander, we were warned that they were Spicy. 
With Shaheen and Liz at opposite ends of the table, the six of us began the Ritual Feed.  This Banquet has been prepared for us, it was hard to believe.  We  instantly realised that if we did the Starters justice we would never manage the Main Course.
Such was the warmth of the welcome we were all at ease, and so it was tacitly accepted that we were in for a lengthy feed.   Zora and Kenny did not sit with us, they were the dutiful serving staff.  Zora was proud of her food and rightly so.  The freshest of Starters, homemade Chicken Tandoori, who else can boast this?  How can a Potato be made to contain so much flavour?
Everything was wonderful and there was still more to come
Two Bowls of Curry were brought into the room, one on the-bone, one off.  A large plate of Vegetable Rice was also set before us, a Salad Bowl too. There was more.  Hector had been promised Karela.  Just how much can one man be indulged?  A special container which keeps Chapattis warm and fresh was also introduced.  Once again, how could we do this justice – we did!
The Curry was in the Shorva style.  As the family originate from Pakistan near the Afghanistan Border this was indeed traditional cooking.  Dr Stan and I tore into the Lamb on-the-bone, the Ladies tackled the Boneless version which also had Potato.  Inevitably I tried both.  The Lamb was cooked to perfection, the spices were subtle.  The Rice felt an appropriate companion.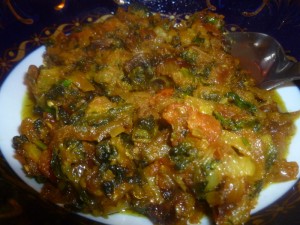 The Bowl of Karela was set down beside Hector.  Liz pronouced Karela differently. She was intrigued as to how I discovered this Vegetable.  The New Karahi Palace was mentioned.  Liz produced an uncooked sample for Eleanor and Dr Stan to see.  Shaheen described the complications in cooking this Bitter Vegetable.  Tomato had been included in the mix, this proved to be significant. 
The Karela was outstanding.  Thick, dry and well seasoned.  Karrah was not a term Shaheen was familiar with. Chapattis of course had to be employed to enjoy this properly.
Alternating between the traditional Shorva and the extremes of the Karela, this made for a perfect meal.  The Karela had a fruity flavour too – the Tomato – Shaheen explained. 
Only the Punjabi Charing Cross has ever served Hector Karela cooked in the traditional  style.  Here I am enjoying this home-cooked creation at the House of Khan.  Pinch me.
Shahed phoned to check all was going well, it was of course.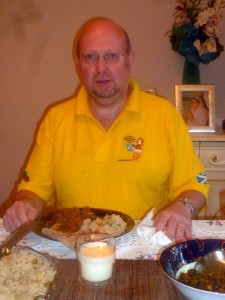 Marg and Eleanor had been sated.  Dr Stan (no Photo for once!) and Hector are well practiced eaters of large volumes of Curry.  We ate on, we could eat Curry for Scotland, perhaps one day we shall.  Eventually I had to wave the white flag.  The Quiet Man too admitted defeat.
And there's more…
Cheese Cakes – plural, now appeared, and a  large bowl of Fruit Salad.  If I had room for Cheese Cake I wold have eaten more Curry.  The Fruit Salad was an excellent finish.
We retired once more to the Lounge.  Baby pictures of Shahed and Zahid with their Father were shown – I didn't dare take a photo.  By now we had discovered that Liz had worked some years ago with Eleanor's Dad.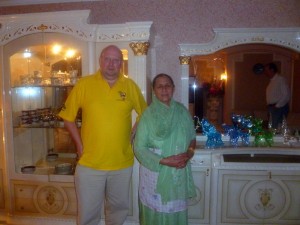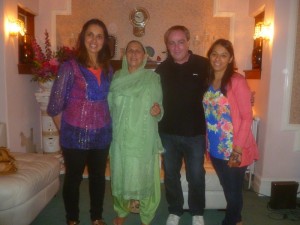 We gave our profound thanks to Zora and her Family then took our leave with an invitation to return ringing in our ears.  The House of Khan should be placed firmly on the map – but of course it is by invitation only!
The Aftermath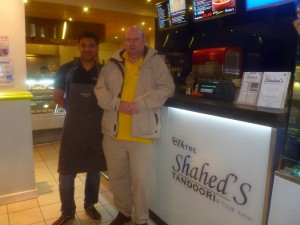 We took the long way home via the City Centre.  Marg and Eleanor sussed why I was taking such a roundabout route through Glasgow.  We had to call by Shahed's in Union Street to thank the man who planted the seeds for this evening.
Thank you Zora, Shahed, Zahid, Shaheen, and Liz.  One day I might even get to meet Kas.