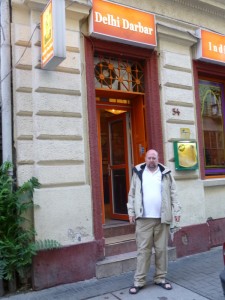 As we dragged our bags down from Budapest Main Station and finally located the street with the Hotel Zara it was fitting that 50m before it Hector spotted the Delhi Darbar (Dohany Street 54, 1074, Budapest), it took until this evening to enter the premises. This was our first visit to Budapest and so our first ever Hungarian Curry.
An Asian family were finishing their meals, two British couples had finished. One couple left, the other, a pair of annoying females sat on and talked incessantly throughout our stay. Whatever happened to companionable silence?
The Waiter brought the Menus instantly and left us to peruse the substantial range of meals on offer.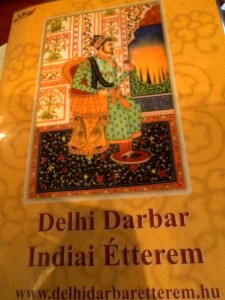 Hector spotted something new – the Sali Bati – Lamb boneless, cooked with chopped onion and tomato jolisyn fried potato flavoured with Indian spices. This sounded like Curry, however, Jolisyn? Who knows what that is about?
Marg ordered her second Lamb Achari in as many weeks. The Chapattis were well under £1.00 each so we ordered two with Basmati Rice. An Aloo Gobi was added just in case.
Complimentary Poppadoms and a Mint Raita arrived soon after we had placed the order. The Main Meals did not take much time after this.
The Sali Bati looked like a Curry, there was more Masala than I would consider to be perfect, but it had least been properly prepared. There was evidence of a good Onion base. The Dish was topped with Onion slivers, possibly caramelised. There was a definite hint of sweetness coming from somewhere and this subsided so I think the Onions were the source. The Lamb, cut small, varied from very tender to tender, so no complaints on that level, however, the Lamb had the very distinctive taste of – Lamb. Once again it is my considered opinion that the Lamb and the Masala had been strangers until very recently, this was a pity. The Chef had prepared a good meal, had the Lamb been marinated it could have been really good.
The Aloo Gobi was unremarkable in terms of flavour. The dry consistency was appreciated but there was simply no flavour coming from this very red creation. The Cauliflower may have been a bit tired.
The Chapattis were a good size and texture. If this was a single Rice Portion, it was very generous.
The Lamb Achari lived up to expectations, it was both Sweet and Sour. Marg has realised finally that this may not be the dish for her. She likes the Sweet but the tangy Citrus after-taste was not her cup of tea. Marg blames herself, not the Curry, though she did comment that the Lamb was not as tender as we have had in recent Curry experiences, elsewhere of course.
One still enters a Curry House for the first time hoping that this could be an outstanding experience, today was fine – good. This puts it well within acceptable parameters.
 The Bill
8040HUF = £21.95. This is less than we paid for a traditional Hungarian meal last night, so seems like good value.
The Aftermath
The Waiter did not really take to the Calling Card. Marg explained that I had a Curry Website, no doubt much to the amusement of the fellow diners. I would normally say nothing on these occasions, just leave the Card and go.