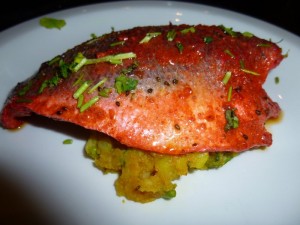 In the course of the discussion last week leading up to the Quail Curry, Hari suggested I must try the Seabass. This is but a Starter and somehow [Stan.TC] had already sampled this some weeks prior. I was happy to have [Stan.TC] as Co-Diner once again.
The Complementary Poppadoms and Onion Chutney were presented whilst the Chef prepared to tickle our fancy.
The new young waiter brought the Fish which was lying on a bed of Spiced Mashed Potato.
The Seabass was beautifully Spiced and Lemon Juice had been drizzled over it prior to serving. This gave a lovely Citrus Bight which complemented the Spice. Meanwhile the Mash must rate as the best Mashed Potato Hector has ever experienced. [Stan.TC] concurred – Mmmm…
Mussels in a Punjabi Sauce must be the next treat.
There we are, short and sweet for once…