Whenever Hector is in Trier, the ultimate destination is always the Hotel Blesius Garten (Olewigerstraße 135, 54295, Olewig, Trier) home of the Kraft Micro-Brewery. We passed the only true Curry outlet, the Taj Mahal (Neustr. 56, Trier) en route. This is the sister outlet to the venue visited two years ago – the Taj Mahal in Bernkastel-Kues further down the Mosel. The Curry served there is particularly bland…but with the only other Curry-House within the region at Zell (Mosel) apparently not open, the need for Curry was never greater.
The Tageskarte at the Blesius Garten stated that a Pork Curry with Pineapple was on offer this very day. The Schweinescurrytopf mi Ananas would have to do. Now when did I last have a Pork Curry?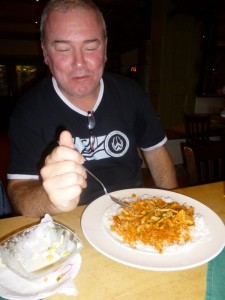 With expectations low the normal photographic coverage was not considered. The dish on offer turned out to be more satisfying than anticipated. OK, the Pork was in Strips, as in a Stir Fry, the Pineapple was tinned and the Masala could easily have been from a jar. However, there was a distinctive Kick from the Black Pepper which must have been an added extra. A sense of normality ensued.
Steve decided he was now hungry and was happy to accept my favourable statements. He too found this version of a Pork Curry to his liking, within the parameters outlined.
The Bill
€8.00.
The Aftermath
We made our rendezvous back in town at the Wirtshaus-Glocke before somehow finding ourselves at the Wittlich Oktoberfest. Now there's a story…