The 06.25 easyJet flight from Gatwick to München means only one thing, there has to be Curry-Heute for Breakfast! There can also only be one venue, the truly superb Indian Mango (Zweibrückenstrasse 15, 80331, München).
Having dropped off our bags at the Hotel Royal we moseyed down towards Marienplatz and then to Marg's favourite Coffee House the Piemonte. She had Death by Walnut Cake, Hector had the Hot Orgasm – Hot White Chocolate. München is a City of Indulgence, and some people only come for the Bier?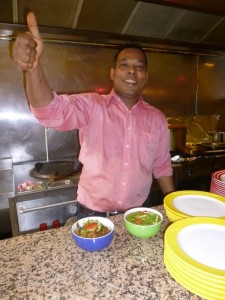 Entering the Indian Mango around 13.00 we were warmly welcomed by the Head Waiter who today was also assisting with the cooking. He offered me his arm to touch, his hands were off limits at this time. I will cook you something Special! – he said. Good! It is well over a year since I have seen this Chap, it was good to be remembered. The Young Waiter who has been here some eighteen months also acknowledged us.
The Fische Chettinad is not on the current menu, but one knows to ask. Mein Host came over and suggested I try something with Tiger Prawns and Chicken. I had to decline (sorry, Ahmed – for Chicken, my time has not yet come…). Fische Chettinad it would be. Marg had swithered about a Starter but the Walnut Cake had taken its toll. A Cola Lite was her only temptation. Hector stuck to the standard Sparkling Water.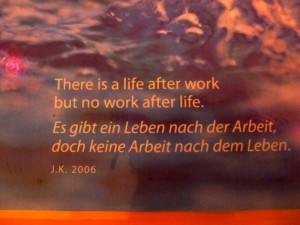 There were over a dozen Fellow Diners, with a Lunch Offer at €5.50 currently, people can be fed here most economically. Some were clearly regulars.  The Place-mats have various quotations attributed to JK, none other than the owner himself.
The Fische Chettinad was presented with a Bowl of Basmati. As ever the quantity of (inclusive) Rice was double what a normal person could eat, and so I spooned out half to cover the plate. I did the same with the Curry and realised that the portion was massive.
There was no Masala in the Sauce sense, this was a truly thick Melange of Chopped Vegetables with a healthy volume of White Fish. The customary Red Chillies used in South Indian Cuisine were visible, here we go…
There was an aggressive aroma of Smoked Spice that Marg could sense across the table, she knew this was off her tolerance scale, she would not be sampling. The Spices had evidently been Dry Roasted to give the distinctive Chettinad-style flavours. The Red Chillies were doing their job and then some – there was a Blast of Heat! This was not a Curry for the faint of heart.  The Chopped Vegetables gave a Gritty Texture, this was sheer joy!
I was starting the second half when a familiar person entered the premises, it was Mr. Jolly Kunjappu – owner of this establishment, Poet/Philospher and Musician. It took him a few moments to spot us and then he was unsure. I took out the trusty HTC and showed him a certain Website – his faced burst into a big smile – I thought I remembered you! Our last meeting was in July  2010 as part of Hector's Hilpoltstein Happenstance. He was pleased that I had ordered the Chettinad and asked if I had tried the Lamb version, I assured him that I have been alternating on each visit. He is rightly proud of this creation, his Mother's recipe, of course.
We were offered a Mango Liqueur after our meal, it was far too early for such a temptation.
The Bill
€22.30. The Curry was €13.90 which is the charge for the Special dishes, three soft drinks were added to this. Yes Hector had Two Glasses of Sparkling Water! Why?
The Aftermath
There was a fond farewell from the Head Waiter and Mr Jolly Saw us to the door. Can I offer you a Bottle of Wine to take to your Hotel? – he asked. Again we had to decline, the no Liquids rule meant we could not take it home. Nor would consuming a Bottle of Wine be a good idea after what was planned for the rest of the day…