As reported on Saturday, tonight's Curry Extravaganza at Yadgar (148 Calder St., Govanhill, G42 7QP) was actually arranged towards the conclusion of our last Curry-Heute at The Village (129 Nelson Street, Tradeston, Glasgow G5 8BA). The request was placed with Mein Host, Shkoor, to Feed Five. No specific Food Order was placed – He knows You Know. Alas, Alistair has not recovered from yesterday, a day in the company of Ricky, The Man from Bradford. Fortunately Hector received this information at lunchtime today, enough time to prevent wastage.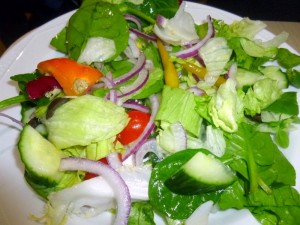 With Dr. Stan, Jonathan and Ricky now joining Hector – For a Feed, the scene was set. We arrived punctually at 17.00, Ahmed greeted us we entered, Naveed was not far behind. Between them we were well served. A Hot Red Dip was set before us along with the Raita. Ricky asked why there was vapour rising from the Red Dip – Because it is seriously hot. Hot Sauce on Poppadoms?  Let's not forget The Healthy salad too.
A Tray of Fish sitting on foil was placed at the end of the table – Six Pieces. Scottish Haddock baked in Yadgar Spice, perfect as is, the Hot Sauce added that special je ne sais quoi. A very good Starter – remarked Ricky who was experiencing –Being Fed – Yadgar-style for the first time. We were Four, Six Pieces, Jonathan and Hector declined a share of the surplus, as Jonathan remarked –  I know what's coming next…
What was coming next?
The original request was for Lamb off-the-bone. This could have been excessive as two people cannot possible share a Kilo of Boneless. How much of a mountain would 2.5Kg be? Shkoor advised me mid-afternoon that they could not serve the Goshat Karahi, Boneless, in our required quantity. Dr. Stan and Hector prefer on-the-bone, Jonathan and Ricky off. At least the portions would now be manageable.
With sufficient time to let The Fish digest, the first of two Large Karahi was placed in front of Dr. Stan. You have that one – Ricky was instructed. He was unsure, surely not another three? Sense prevailed, we could enjoy this, comfortably.
Ahmed suggested five Chapattis to start us off, a couple more appeared as required. The Lamb was cooked, as one expects at this wonderful establishment – to perfection. No way had this Meat just been introduced to the Minimal Masala. Eating a Half-Kilo, slowly, taking in all the pleasure, The Yadgar Experience. The Masala was Dark and Thick with leaves. Coriander and the now mandatory Methi Leaves, of course. A touch of Spinach, Curry Leaf? – who knows? Their secret. The Magic of The Yadgar Curry.
Mr Anwar Sr. came out for a chat. Once again congratulations and appreciation were expressed by us all. Ricky does not praise Curry just to be polite! The Man from Bradford later remarked that the Curry was in a Sensible Portion, Absolutely Superb, Hot but not Too Hot. As Jonathan stated about Yadgar – (The Curry) always impresses.
I had noticed the scaffolding at the adjacent Close. What news of the renovation? I had to ask. We were told the worst of all possible news – it is possible Yadgar may have to shut for up to a year come March. Alternatively, the builders may be able to work around them. The fact that the Family cannot make proper plans is nonsense.
The Bill
£80.00. Sensible Portions, Sensible Bill.
The Aftermath
Driving home there was a delightful discovery – Derek Johnstone is back on Radio Clyde! The man who was born to wind up Mr Keevins… Happy Days…