Cooked from scratch in under 90 minutes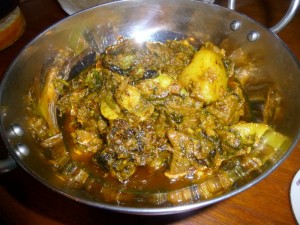 I have always believed that I can cook a Curry to look the same as any Curry served to me anywhere.  Matching the complexity of the Flavours is something else.
Hot on the heels of the Yadgar Visit at the start of the week, I was inspired to try and make as Leafy a Curry as possible. It was the distinctive Herb Flavours from Bradford Curry that started me singing the praises of the Curry Capital back in '96.  Fresh Methi is a recent discovery in Glasgow Grocers, for me.  The Dried Variety was always a bit disappointing.  Minimal Spinach is something I have increasingly observed in recent outings, how not to let this Potent Herb dominate.  Is it possible to put too much Fresh Coriander in a Curry?
Following the tried and tested method of creating the Masala, the Tomato content was reduced.  By not adding a Tin of Tomatoes this also minimised the Liquid.  The Methi Leaves, Fresh Coriander Leaves and Stems and Five Blobs of Frozen Spinach were added earlier than ever before.  The Masalas I have been eating of late could not have been created by adding these ingredients near the end of cooking.  The Mutton, courtesy of KRK (Woodlands Rd, Glasgow) was added as soon as.  Time was of the essence, the Meat had to be cooked in an hour.  Not really enough for Mutton.
Stirring was required at least every ten minutes. Half a carton of Yoghurt was stirred in Spoon by Spoon with each Stirring.  Pre-boiled Potatoes and Fresh Mushrooms were added whilst the Chapattis were heated in the oven.
The Tasting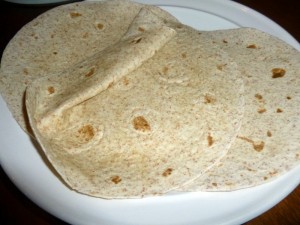 The outcome was Thick and Dry, the way I wish my Curry to be served.  More Salt might have brought out the Flavours further.  There was a Gritty Texture, the Coriander Stems no doubt.I have to admit to thoroughly enjoying my own creation, despite the poverty of the Sainsburys-supplied Chapattis.  I would happily serve this to anyone who desired it.
Marg described the Curry as – Earthy, not much Masala, good texture of Potato and Mushroom.  The Meat was a bit tough. Not my type of Curry.  Why are we having Curry every week?
Actually, it is two weeks since my last Home-Cooked Lamb. Yes, it could have done with another thirty minutes.   Looks like I dare not cook another one too soon, unless it is Creamy…