The Last Sensible Meal before…
It is some eighteen months since the last visit to the Lahore Karahi (145 King St, Aberdeen, AB24 5AE), finding it was no easier than last time. King St. is an easy street to locate, the lack of illumination above the Curry House means it is difficult to spot the premises.
A group of six diners were present, another six would join Marg and Hector. Was this an ordinary 18.30 sitting?
The Waitress on the last visit was described as Dippy, today's was Quirky, was it the same person?  It is difficult to determine who is operating this Curry Outlet, not the Kids on display…
The Menu is not OTT, there is a sufficient range of meals to choose from. The Lamb Karahi was advertised as on-the-bone but with an hour's notice. I made enquiries but was told there was no Lamb on-the-bone available after all. Having sampled the Methi Gosht on the last visit I felt I was due a change from this and my norm. Achari Gosht would fit the bill. Medium with a Kick – I asked for – What? Was the reply… She now knows.
Marg surprised me by ordering the Butter Chicken. Three Tandoori Roti (£1.20) would be the Accompaniments.
No Sparkling Water was available.
During the wait we wondered as to the constant vibration and occasional odour of Carbon Monoxide. Marg concluded that there was a Big generator beneath us. Why – who knows? Was this in any way associated with the lack of illumination at the entrance?
Hector's last significant Achari Experience was Achari Lamb Chops at Glasgow's famous Yadgar. I did not anticipate anything to match this, no need to build up one's hopes. What was presented looked a decent Curry. The Masala was not as Thick as one would prefer but was certainly not Soup. It was clearly Onion-based, the quality of Masala served in most above average outlets. There was no Citrus or Pickle Blast that one would expect from an Achari. A bit disappointing. The Lamb count was six in total, however, these could easily have been cut into at least half and so create the impression of more. The Lamb was well cooked and overall there was a decent Kick. With the Tandoori Roti served in a decent size there was certainly enough to eat. As Tandoori Roti tend to, there was a more Crispy texture through the passage of time. One must eat quickly before they become cardboard. Hector prefers Chapattis.
Marg received an identical Meat Count in her Butter Chicken. The Masala did look different in texture to the Achari, definitely Soup.  It was also, as expected,  completely different in taste. I was permitted a sample as always. This was more of a Korma-style dish. However, as Marg would testify it was not simply the bland Coconut based dish served so widely. She described her dish as – Creamy and Filling.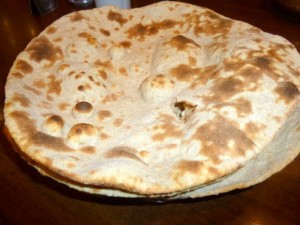 The Waitress came over and her gaze definitely focused the plate of solidifying Roti. She asked if she could get us anything else and then appeared to withdraw the statement. What else did you have in mind? – I had to ask, there was no reply. She did ask if the meals were Spicy enough. More flavour is really what was required.
The Bill
£20.30. Two plates of Curry and three Tandoori Roti. This was much better value than many Aberdeen outlets.
The Aftermath
The Waitress was puzzled by the Calling Card. On seeing the URL she asked if one could order Curry from this Website. She should now appreciate what Curry-Heute is all about. Somebody up there might even realise that the Lahore Karahi and Curry-Heute are Friends on a certain Social Medium.