The International (40-42 Morley Street, Bradford, BD7 1BA) remains the venue where Hector famously ate his Mostest Favourite Curry of all Time. Quite an accolade. This afternoon we spent the obligatory couple of hours in Haworth completing the Marg Ritual, now it was Hector's turn for further indulgence. For some reason I had it in mind that The International did not open until 16.00, that is only on a Sunday. There were a few Co-Diners as we entered just on 4pm.
Knowing the Night Staff better than the Day Staff I did not expect to be recognised, I was not. There were two New Chaps running the show this afternoon. Mein Afternoon Host turned out to be thoroughly charming and ensured we had everything we required. He even took time to look at the Curry-Heute Website to see the photos of his colleagues. With greater familiarity he too may appear on these humble pages.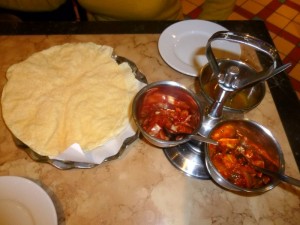 Determined to have something a bit different from my usual, the Krahi Lahori Lamb Chops sounded too tempting, Hector failed. Chapattis (£0.00) would be the Accompaniment. Marg was not particularly hungry having had her own Treat in Haworth, she too considered the Lamb Chops Starter to be a Suitable Snack. The Waiter took the order and brought the Complementary Poppadoms, Chutneys and Dips.
During the short wait for the Dishes we did observe something strange, a couple came in, wandered round, then left. No Lager?
Marg's Lamb Chops numbered Four, an ample portion for £3.90. Marg described them as – Very Tasty and Succulent, she was disappointed when she had finished. The Lady who had not been hungry was now eying up my version.
The Full Blown Krahi Lahori Lamb Chops numbered Five. For the extra £5 one gets the extra Chop, the Masala and the three Chapattis. Can anyone eat Three Chapattis? The Chops were wonderful. They were well cooked, well seasoned, soo Tasty I even managed a smile….
The Masala was definitely from the Rogan Josh School. Thick with Onion and Tomato, a very very familiar and comforting Flavour. The combination of Chops and Masala was exactly what the Hector ordered. I only managed two of the three Chapattis. I thought Marg might have dived in but restraint was shown.
Or was it?
Marg had her eyes on the Dessert Menu, the Toffee Twilight proved irresistible. Served in a Glass it looked very tempting, but why destroy the Flavour of Curry on the Palate?
The Bill
£16.30. Poppadoms, Chutneys, Dips, a Starter, a Main Course, Chapattis and an Ice Cream. And not a Table-Cloth in sight.
The Aftermath
The chat with Mein Host is relayed above. It was then time to rejoin the rest of the Huddersfield Gang, plus Mr. Holden at The Sparrow.
Hector is in Bradford, another Curry-Heute is inevitable.