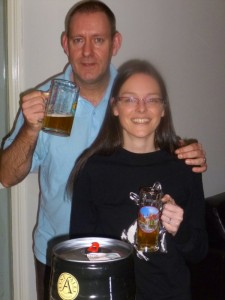 Kenny and Nina were recently married, the Stagg Night was in The Laurieston a few weeks back. Tonight a select few were invited to attempt the demolishing of two Barrels of Germany's Finest – Löwenbräu Kellerbier (Buttenheim, Bayern) and the wonderful Keesmann Bock (Bamberg, Bayern). We were promised a Curry-Heute. How could one resist? Those who missed the event should be kicking themselves.
Kenny initially had planned to use Hector's Recipe for Keema Mutter, but in the end went for Mutton. The pot was on the stove, a first inspection passed muster.
The Kenny Mutton Curry was preceded by Very Spiced Onions and Poppadoms. The addition of Fresh Coriander made this as good, nay better, than most Onion Chutneys served up in commercial premises. The Lips were Burning.
Some were sitting at the table in anticipation of the Main Event. Hector followed The Chef from Stove to Table, timing his run perfectly and scooped an ample supply of Curry on top of the Nan which had been procured also with perfect timing. Retiring to a corner Hector was now focused – Full Curry Mode.
The Lamb was cooked to perfection. The Curry was in the Shorva style. The Spice level was more than adequate, perhaps a bit more Seasoning would have brought out the full Flavo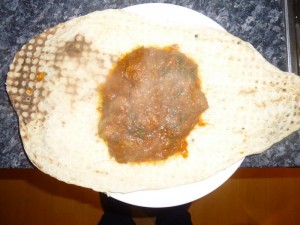 urs. Hector appreciates that cooking one Kilo of Lamb is not onerous. Cooking an elegant sufficiency for ten or more and getting the Masala exactly as one wants it is a challenge.
The Pot was scraped clean, the Curry enjoyed by all. Few in recent years have cooked for Hector domestically, always appreciated.
Back to the Bier…