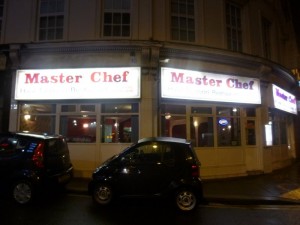 Ale was the main attraction today in Liverpool. Arriving after everyone else I had to pick up from a Social Media Website where everyone had checked in. Matching this to the Map on the Trusty Samsung put Renshaw St. firmly in the mind. Renshaw then Myrtle. I had passed three possible Curry Venues by the time I had caught up with everyone. When finally charged to select a Curry House, the Master Chef (57 Renshaw St., Liverpool, L1 2SJ) sounded most appealing from the minimal Blogs that Liverpool can boast which cover Curry. That it was doors along from the Dispensary was an added bonus, we might go back…
Flagging a Taxi at the Baltic Fleet, the Driver knew nothing about Liverpool Curry, he may have been as intrigued as ourselves as to our chosen venue.
The Master Chef was empty, a couple of Websites had remarked on how it is always busy. Some of the Staff were eating. We chose the optimum table, mid-room on the right.
The Laminated A3 Menu was straightforward, Mainstream Dishes with a splendid list of Karahi Variants on one side, the Desi list on the rear with the Sundries and Accompaniments.. Now, what to have?
Yvonne stayed mainstream with a Chicken Jalfrezi. Craig, who still raves about his Bradford Curry Experiences at New Year, was looking for a Methi Dish. There wasn't one, – So ask! Chicken Methi (no Chillies) was not a problem. Craig and Yvonne would share a Chapatti and a Boiled Rice.
Mags loves her Aloo Gosht and so was happy to find this. A Mushroom Rice would accompany this.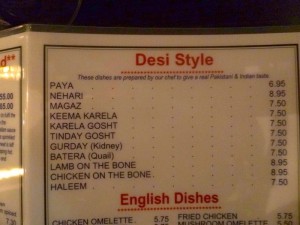 Now the Desi range was a challenge. A bit of this and a bit of that. I waved my hand across the list and told the Waiter I wanted all of these. It had to be Lamb on-the-bone as it was available. Karela was listed as a separate Dish, so I persuaded the now very patient Waiter that I should have on-the-bone with Karela – And as Dry as your Chef cam make it. Mags was straight in with – I'll have mine Dry too! In an attempt to avoid Death by Chapatti I ordered a Garlic and Coriander Nan. The Waiter gave me a rough estimate as to how large it would be, fine.
Now Starters were discussed, a Vegetable Pakora and a Chicken Pakora to share was added in.
The Starters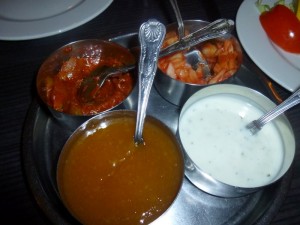 The Vegetable Pakora was a serving of Four Pieces, really. I cannot recall ever seeing such a Miserly Serving, not even in London. The Chicken Pakora was two Slivers. Nobody would be put off their Mains in this Venue. Yvonne cut the Chicken, decidedly in my favour and so I had no Vegetable Pakora. There was enough to whet the Appetite, no more. The Dips were scoffed.
The Mains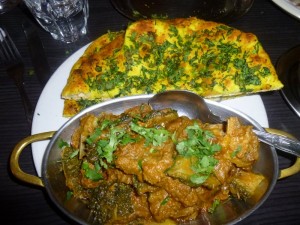 The Platter of Curry set before Hector was fit for a … Hector! At times, ordering on-the-bone means less actual Meat, with this Dish, not an issue. There was loads. And Dry! This was a most impressive Presentation. The Masala was indeed minimal, the slices of Karela were in a perfect ratio to the Meat, sometimes I have found excessive quantities of the Bitter Vegetable on my plate. This was Lamb with Karela, not the other way round. Full marks for Presentation. Taste-wise the Dish was not powerful enough, certainly under-seasoned and I should have asked for Methi too. The Lamb had been cooked as a Curry and was not Lamb Chops Starter turned into Curry by pouring Masala over it. The Meat was a bit on the tough side, not the best Lamb I have ever encountered. However, having selected this venue with minimal information, I have to give them credit for creating a Dish to my specifications. For me, this was a good introduction to Liverpool Curry. The Nan was not so impressive. The Garlic content was not noticeable, the Coriander was certainly evident. The Bread turned Crispy too soon, a pity.
Yvonne's Jalfrezi was not in anyway a Soup. With the abundance of Capsicum, which Yvonne enjoys, this looked more like a Stir-Fry to me. Yvonne enjoyed it but only managed half, the Portion was generous. Absolutely lovely – was Yvonne's verdict though she did admit there was way more than she could eat. Craig would come tot her rescue – Even though it's killing him  –  Yvonne remarked.
Mags has had this choice of Dish in many venues that I have witnessed, it is probably her standard Take-Away too.
I wiped the plate clean, what more can you say?
Mr. Methi
Now Craig does not eat a lot of Curry. He has been regaling his work colleagues with Tales of Methi in Bradford. Mr Methi is how Craig now refers to himself.  Sublime, the Perfect Curry – was his verdict, before demolishing the rest of Yvonne's Jalfrezi.
The Bill
£47.30. There were no Drinks, but there were two Starters. This was very good value despite the criticisms.
The Aftermath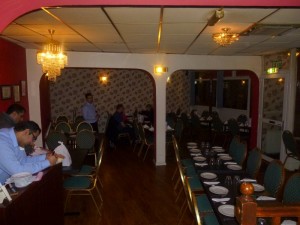 The Calling Card was accepted with a promise to look at the Curry-Heute Website. Lovely Staff, a Friendly atmosphere, we left in a contented frame of mind. Now, The Dispensary really was only a few metres away…