After another successful visit to The Staggs, Musselburgh, Curry-Heute was once again the priority. With so many Favourite Places, and a New Curry-Heute Venue reported on yesterday, a return to the Punjabi Charing Cross (159 North Street, Glasgow, G3 7DA) was overdue.
As the end of the second year of business nears, this wonderful establishment, next door to the Bon Accord and adjacent to the Mitchell Library has slowly but steadily built up its clientèle. Hector was pleasantly surprised to walk in around 21.00 to find the place buzzing. My first reaction was that there was a Private Function being held, but Hari assured me that this was not the case. Spotting two empty tables at the top of the room I realised that if I took one, three more customers might be turned away. I immediately offered to sit Downstairs.
Yes, there is accommodation for another twenty in the basement. This proved to be a good move on my part, at the end when I came back to pay, the upstairs of the Punjabi Charing Cross was Full!
Hari had the Complementary Popaddom and Onion Chutney on my table as soon as I sat down. Ram brought the customary Sparkling Water. Hari asked if I wanted Venison. Given that it was me who planted this notion of serving this I thought I had better answer in the positive. A single Chapatti would be the Accompaniment because despite being ravenous, the Keema Padora could not be ignored. Why has this magnificent Starter hidden itself from me for so long?
Ram came to take the order and asked how I had been. As I mentioned New York there was an air of familiarity – they read Curry-Heute!  He related that for the last few weeks they have been doing Remarkable Business.  Charing Cross has a Cluster of Curry Houses, this is one of The Best.  Hopefully even more people will discover it.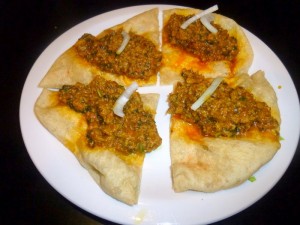 The Keema Padora arrived before I had made much of an impression on the Popaddom. The Keema Padora was Hot! Really Hot! This Dry Mince served on a Puri is so good I could easily eat three and forget a Main Course. Maybe I should have another look at The Menu and Check out Kema Curry, with Methi, of course! I told Hari that when Marg comes (in a fortnight) and experiences this, it will be a case of Keema Padora and Lamb Chops – forever!
How can Curry follow this?
It was Young Hari who brought the Curry, I was being well looked after despite being the only Downstairs Customer.
Venison is Potent. It can also be more Chewy than Lamb. This certainly was.  The Bone Splinters were at a Minimum, but one has to watch else a Monday Morning visit to The Dentist could be the outcome. The Masala was not far away from that served last evening at the VIP Taste. Not the Thickest, but clearly with a good Onion Base. There was no Methi. I can have no complaints, but this was not the best Curry ever served to me at Punjabi, I miss my Interesting Vegetable or added Herbs. However, given the high standards here, this was still a Very Good Curry! Next time it will be the Exquisite – Lamb Gurmeet.
 The Bill
£16.10. This was less than I paid for my Lamb Gurmeet and Keema Padora last time. This time I had Venison. Thank you.
 The Aftermath
If you don't ask
The last time Alan and Tracy ate on these premises, we were treated to Karela cooked at the hand of Hari's Wife. I had to ask Ram if his Mum might repeat this creation? We shall see.