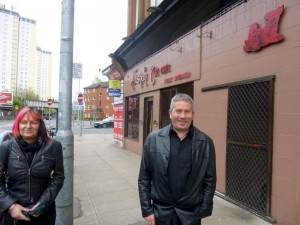 Somehow two years have lapsed since my last visit to the Alishan Tandoori (250 Battlefield Road, Glasgow, G42 9HU). Hector does not find himself this far South so often these days and so it was a definite thumbs up when Alan suggested that we re-visit. Walking in to an empty Restaurant just before 17.30 I was recognised by one of the three stalwarts who have ever-present since my first visit in the 1990s. A table was arranged for 18.30, I knew by then they would be full. With possibly fewer than a dozen tables, this venue is compact, space is at a premium yet the Dining Experience is always First Rate.
Alan and Tracy made the Clockwork Rendezvous, Marg arrived in time to decant back to the Restaurant, for once she had not been triumphant at Hockey.
Alan was also recognised when we entered, for him it has been may years since his last visit. Drinks were ordered, as there was no Draught Cider Alan had to settle for a 330ml bottle at £3+. With Bier on the agenda for afterwards, Hector stuck to the usual, however at £2.80 for a pint of Soda Water, well, ouch!
The Alishan Menu is a Lengthy Tome. I had done my research online during the week. Instead of my normal (here) Pholan Devi the Special Bhoona Methi Gosht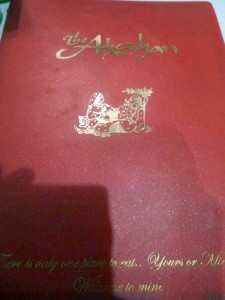 looked like the basis for comparison with my regular places. Alan bought into this too and upped the ante with Extra Green Chillies (extra 50p). As Dry as you can make it – was my contribution.
Marg tried to work out the difference between a Balti and a Karahi. Birmingham – was our best answer. Lamb Balti then. Tracy ordered a mouthful – Special Karahi Chicken Tikka.
Starters had also been discussed and agreed upon, each couple to share. Marg and I went for the straight forward Chicken Chat, the Opposition – Chilli, Garlic, Chicken and Mushroom Puri.
Chapattis at £1.80 did not look as good value as a Vegetable Paratha. We ordered one of each. Alan asked for a Garlic and Coriander Nan. There was a pause in the note-taking to verify that this was not two separate Nans. Nobody orders a Nan for one at the Alishan. No Rice.
I would love to see the Kitchen at the Alishan. Being a Mainstream Restaurant they must operate the Classic Two Pot System. To observe The Tweaks to make the plethora of Variations would be interesting.
The Starters arrived in good time. The Chicken Chat was four Chicken Wings accompanied by Fresh Onion and Spiced Onion. It kept Marg and I amused whilst we observed Alan and Tracy demolish their Puri. A Curry in a Pancake – was how they described it. I feel we missed out.
Marg retained her Fork after the Starter. She was offered a clean one but had become attached to this one. Alan was permitted another Bottle of Cider.
The Elaborate Tikka and the Balti arrived first. The Karahi was served in an Iron Karahi, the Balti in a standard dish. This was slightly disappointing, The Bucket was anticipated. And then there were the days of the Clay Pot for the Pholan Devi…
The Methi Gosht were also served in the standard dishes. There was now the task of setting out the Breads. The Nan was folded, else it would have occupied half of the table. The Chappati was quartered leaving the Paratha to look resplendent. Peas were the stuffing in the Paratha rather than the usual Potato. This was an excellent accompaniment.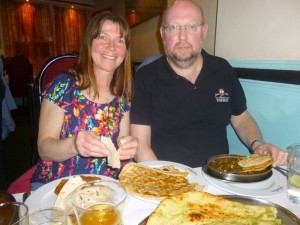 The Masala in the Bhoona Methi Gosht was suitably Dark and Thick. There was a visible Herb Content but the Methi Blast did not happen, no Wow. Alan kept using the Salt Cellar, indeed, the Dish needed much more Seasoning. The Lamb was sufficient in quantity and as Tender as one could hope. We reached the same verdict. – it was very much a Mainstream Curry.
Marg had much more success with her Lamb Balti. Citrus, Tangy – were her words. I observed a Masala of similar Texture to the Bhoona but clearly no Herbs added. It looked the part, pity no Bucket. As ever, there was some left for me to sample but The Hector was Full! Tracy was mostly positive about the Special Karahi Chicken Tikka – Tasty, but needed more Chillies. And this was after the Extra Green Chillies (extra 50p) had been added. Chicken Tikka Vindaloo may be what The Lady needs?
There was a call for two Doggy Bags, Hector the Curry Hound would be able to sample Marg's Balti later. Mein Host advised Marg that she would receive it in a Foil Tray, she would have to relinquish the Serving Dish… and her Fork.
When Ladies are Present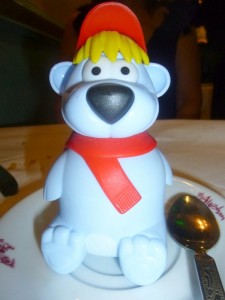 There was Ice-Cream. The Alishan serves the Frozen Desserts that are mass produced. Tracy wanted Toby to complete her collection. Marg had Turkish Delight Ice-Cream, no comment. Then there was Coffee, for three. My Soda Water was now finished, time for The Bill.
The Bill
£82.60. For a Fully Licensed Restaurant and Drinks on The Bill, Starters and the Excellent Service there can be no complaints about this. There is no charge for watching the Goldfish.
The Aftermath
Mein Host said goodnight to me by name. We'll see if he remembers next time. I was not asked about the Ritual Photography as on my last visit, so maybe he will.
The Alishan remains a Worthy Venue. If I can squeeze in a couple of more visits it may well have to put on the list of Hector's Recommended Curry Houses. I have been eating here for decades and always have a Good Experience.
Postscript
Lamb Balti for Breakfast
Hector was able to sample four pieces of Lamb in the Thick Masala, Absolutely Beautiful! I don't know if the overnight marinade made a difference. The Masala had a Tomato undertone in addition to the Tang described by Marg. This was Classic Curry.