The table for this evening's outing to The Punjabi Charing Cross (157-159 North St, Glasgow G3 7DA) was booked two weeks ago, a Neat Hector Strategy. This would give Hari, Mein Host, enough notice to arrange to serve up his Unique Home Cooked Stuffed Karela – Cooked by Mrs Hari. Tonight was a special occasion, John and Judith were joining us in Glasgow for the first time, The Huddersfield Two. Dr. Stan is also back from his travels and so the Friday Night Ritual Curry was scheduled for 17.00.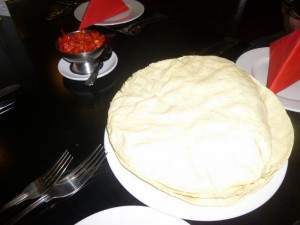 Dr. Stan was first to arrive then put off by no sign of life and a sign that did say – Open at 6pm. That cannot be right, we have been here earlier than this before.
The lights came on and in we went. John and Judith arrived via the adjacent Bon Accord, we would retire there afterwards.
The Complementary Poppadoms and Onion Chutney were brought to the table immediately.
Dr. Stan has not savoured the new Mandatory Starter – Keema Padora. We would share this.
Lamb Gurmeet for Hector with two Chapattis. Hari asked if I wanted it on or off. I stated I didn't mind but he chose – on – it has more Flavour – he assured me. Dr. Stan opted for Lamb Karahi and Judith Chicken Karahi both boneless. Dr. Stan would stick with Chapattis, Judith a Pilau Rice. John announced his preference to eat after Ale rather before. A Starter would suffice. Hari offered John some options – Sea Bass was agreed upon, a Good Choice. Karela was never mentioned, but was anticipated.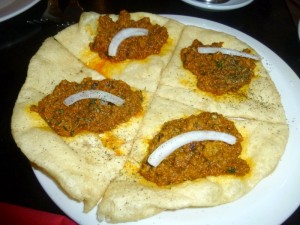 I was confident that Dr. Stan would be impressed by the Keema Padora, not a difficult prediction to make. This Starter ticks all the boxes. A Light Starter of Seriously Dry Mince served on a Puri. I then related how I persuaded Chef Gurmeet to serve me this Keema as a Main Course on my last visit, with added Methi of course One suspects Dr. Stan may be up for this.
The Mains arrived after a suitable amount of time to let the Keema Padora go down. The Lamb Gurmeet and Chapattis came first followed by the Sea Bass. The Karahi (both), more Chapattis and the Rice came soon after. The Final Piece of the Jigsaw then made an almost ceremonial entrance. Three pieces of the Driest Looking Karela ever were set before us. Hari was proud to announce that this evening the Karela had been stuffed with Keema. Hector was being spoiled once again.
The Lamb Gurmeet was everything the Hector demands in a Curry. Full of Flavour with Methi to the fore. The Dry Thick Masala complementing the perfectly cooked Lamb. Beware of small bits of Bone. Two Chapattis of the Girth served here can be eaten on occasion. One and a half is the normal intake. Add to this the Karela. John and Judith had a small soupçon, not for them. This was for Dr. Stan and Hector. Bitter, Beautiful, the perfect accompaniment to a Curry.
John made short work of his Fish. He was most impressed by this delicacy. His appetite was now whetted. Judith ate her fill and thoroughly enjoyed what she had eaten. John came to her rescue, my Half Chapatti was all that was left.
The Bill
£48.95. This included two Sparkling Waters and a Half Pint of Cobra. The Karela was also Complementary.
The Aftermath
A Classic Bon Accord Friday Night, featuring Jonathan, Howard, Tracey and eventually Clive and Maggie. Something is afoot…