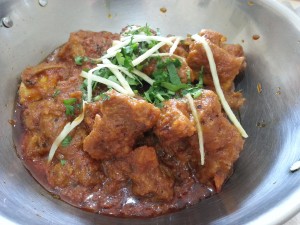 Thursday, 18:31 
Dear Chap, Hector needs a Goshat Karahi with Bones, Saturday 15:00 would be ideal. What are your thoughts?
Thursday, 18: 36 
1. You are long overdue a visit to Yadgar.
2. I am humbled that you still consider Yadgar as your favourite feed.
3. You are always welcome at my abode, announced or otherwise.
One can walk in off the street and order a very fine Curry at Yadgar (148 Calder St., Govanhill, G42 7QP), or as Hector was invited to do during his second ever visit, order in advance and save the forty five minute preparation that the Goshat Karahi requires. The Goshat Karahi is IMHO still the Bestest Curry served in the City of Glasgow. Fortunately there are close Competitors else the Glasgow Curry Scene would not justify the many words that are written in these pages.
Approaching Yadgar, the Scaffolding on the Tenement Block in which this Restaurant/Takeaway is housed had visibly expanded since my last visit in April. More on this later. It was exactly 15:00 when Hector entered the premises. Naveed as ever was there to greet. Chapattis have become my standard Accompaniment, however the Vegetable Rice here is outstanding. No Chapattis?– asked Naveed. No Sparkling Water? – asked Hector. I wonder who drank it all. Clearly there is no demand for Sparkling Water.
Mr Arshad, The Chef, sat at the smallest table where The Staff tend to eat adjacent to my Lone Diner Table. I have cooked you a Karahi – he assured me. I wondered if there was another message contained in this simple statement. As much as dining in company is enjoyable, I know that when I come to Yadgar alone, I am spoiled, at times to a level of embarrassment. Today would be such a day.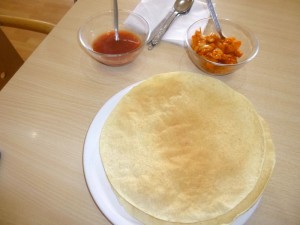 Poppadoms, Spiced Onion and a Hot and Spicy Sauce were brought out. Two Poppadoms? I was little way through the second when Naveed brought a Large Karahi to the table. This Receptacle is usually reserved for the Full Kilo, this was not a Normal Portion. There were large pieces of Bone visible, however, there was no need to worry about the Lamb to Bone Ratio, there was as much here as any mortal could eat.
The Plate of Vegetable Rice could easily have served two, I know because Neil and Hector shared a portion last time. Yadgar serve a Supreme Vegetable Curry comprising of Potato, Cauliflower, Carrots and Peas. The same Vegetables were mixed through the Basmati. I recently wrote that I have only ever ordered one Biryani in all my years of ordering Curry. Maybe one day I could be tempted to do so again, here. This was a Meal in itself. Morally I couldn't leave any Meat, I knew I would be defeated by the total quantity, some Rice would be left, but hopefully not too much.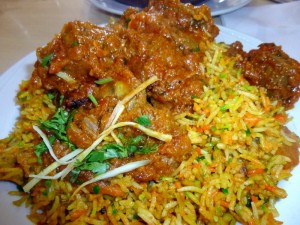 The Goshat Karahi had seemingly limitless Lamb, and not all on-the-bone. The Lamb was seriously Tender but not to the level where it feels it had been Brewing in a Pot for days. Sheer Perfection. The Masala is what makes a Curry. There was a visible layer of Ghee collecting at the base of the Karahi, this is where the Phenomenal Flavours tend to assemble. Best kept for later. The Masala Shrouded the Lamb, to achieve this Texture without Daal is remarkable. The Flavours were so familiar – Yadgar – I could pick this out from any Curry served in Glasgow. The Kick was exactly enough to assure the Diner that this was indeed Curry. Round One was over, I spent some time enjoying the Vegetables and Rice before spooning on the Base. Time for another Knock-out Experience.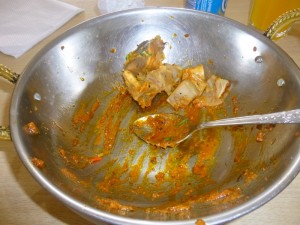 Hector was here to eat. Hector was being spoiled, once again.
As I approached the end Mr Arshad asked if I could perhaps eat one Portion more? Naveed asked if I needed anything else.
The Other Chap
I recognise all of The Faces at Yadgar but don't know all the names. Mr. Anwar Sr. had passed though whilst I was Dining.
The Other Chap emerged from The Kitchen with a Bowl of my Favourite Punjabi Dessert. Served Hot, this is better than how I served it to Marg when I brought it back from Bradford. Coconut based, it is Sweet, but not excessively so. Where was the room to eat this? Some say there is always room for Dessert. I was considering my plight when a Couple with three young children walked in to the dining area.
So, Mr. Ali, you have come for some Outstanding Curry? I remarked.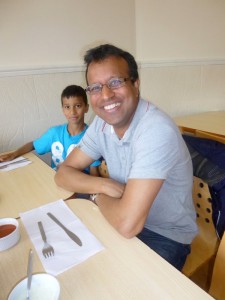 It was Shuel from The Akash (as was) Helensburgh. Son of the Erstwhile Owner, and a former Pupil of Hector's to boot, I had not seen Shuel since the hand-over to the New-co. He had to ask if I had been back. They are trying hard – was my verdict. I was intrigued as to what he had ordered. We eat Curry at home – was his justification for ordering Kebabs. I suppose people tend not to have a Tandoor in their homes. Shuel said he was a regular at Yadgar, he also brought up Akbar's. He found it hard to believe the Two-Tier Menu System operated there. The Nan Breads impressed him with their size and the manner of their serving. Shuel has not been to The Alishan.
The Bill
£13.00. Now Naveed knew and I knew that this was an Arbitrary Figure.
The Aftermath
I asked about the works going around the premises. There was a threat that they could be shut down for months, apparently this will be a matter of weeks later in the year.
Naveed then mentioned – My Missus. Now this must be a quaint Punjabi term I didn't recognise. He was keen to tell me that she runs an outfit locally called Stylish Mehndi. For those who require it, this Artistic Service can be found on a well known Social Media Site.