This Trip could potentially be a classic fall-on-the-sword – Hector's Horrible Holiday. Tunisia is a country I have been ken to visit with Architectural and Archaeological Attractions to the fore. Prior research has revealed not much in the way of Bier, and possibly Even Less in terms of Curry-Heute Opperchancities.
Arriving in Sousse yesterday, Hector had his expectations raised when the Taj Mahal Cafe was passed as we approached our Hotel, the Riadh Palms. It was checked out later in the day and was found to have no Curry association whatsoever. The day, or possibly even the holiday was saved when approaching the hotel from a different route we passed Restaurant Le Phenicien (1 Rue Ribat, 4143, Sousse, Tunisia – off Boulevard Abdel Hamid El Cadhi). The sign was clear – Traditional Tunisian and Indian Food. I stuck my head in the door and a Waiter greeted us warmly, Curry was confirmed. We would return.
Now this is Day 2, we are still getting our bearings and trying to locate other Non-Curry Restaurants which may be of interest. The intention was not to eat in our Hotel again, but get out and find some genuine Tunisian Cuisine. Spicy Lamb Stews should be available as well as the Tradition Tajine Dishes. Too many of the local venues are no more than Fast Food outlets, Cafés at the uninviting level. This evening's strategy was to check out Le Phenician's Traditional Cuisine then return for Curry at a later time. This strategy was abandoned within minutes of setting foot in the premises.
We entered, a Waiter was nowhere to be seen. The first thing we did see was one of two couples Puffing away. There was a raised area to the rear, here's hoping. I asked if there was a Non-Smoking Area. Non! We were invited to take a seat, we took the table nearest the open door.
It became evident very quickly that The Puffing Couple were, and probably still are, English. Now have the people of our Nation not come to accept that there were very sensible and healthy reasons for the Smoking Ban which prevails in the more civilised parts of Europe. Does Man have to revert to Troglodyte Behaviour at every Opperchancity. They persisted throughout our stay, we took in the fresh air from outside. This is going to be a Major Problem on this Trip.
As we got as comfortable as the table permitted, Marg unfolded her Napkin – Filthy. We immediately decided that this would be our one and only visit, we had better order the Curry. We even thought about walking, but realising this could be the only Curry Source within easy reach in the next fortnight, well, we stayed.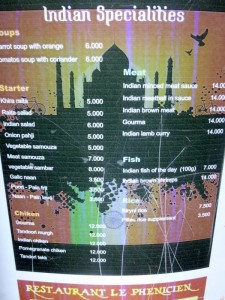 We had already studied The Menu and accepted its minimalism. Hector would ask for clarification between the Indian Brown Meat Curry and the Indian Lamb Curry. Marg fancied the Pomegranate Chiken, we would share a Galic Nan and a Biryni Rice (sic x3).
The Waiter went to the door to use his phone despite it being obvious that we were ready to order. In his time he came over, no Pen or Pad in hand. His explanation to the difference between the Brown Meat and the Lamb was given in his native tongue. I don't speak Arabic – I was forced to admit. He leafed through the Menu and pointed to Lamb Chops. Now in Bradford this may be the basis of a Wonderful Curry,I thought it safer to stick to the straightforward. Dry – I offered. Minimal Sauce. There was a nod. Marg's order was OK. No Naan – he said. Two Rice then.     Two? – he asked quizzically. The Onion pahji had to be tried, if only to let me record the variant spelling. Our relative Spice Requirements were asked for as an afterthought.
An array of Salad Tapas were set before us. This included the Hot Chilli Mush that I had enjoyed at Lunch with our Grilled Fish. Too Hot for Marg. The Olives had a hint of Clove in the after-taste. Strange. French Bread was provided, enough to fill us before the Main Event. We had paid due respect to the Tapas when the Starter finally arrived.
The Bhaji serving comprised of three of whatever in Breadcrumbs, a first. This was quite a pleasant innovation adding an extra Crunch. Green Slivers of Something accompanied the Onion, Coriander we hoped, but too little to be sure. This was Fine.
We waited for the Main Course. Having entered the Restaurant just after 20.30, it was by now approaching 22.00. The Puffers had not received their Mains, the other Couple had been given nothing. We assumed they were Dining and were before us all. We waited ages. Marg concurred that elsewhere we may well have walked. I know a Chap who most certainly would have. The wait must have been Two Full Robins.
At exactly 22.00 there was a flurry of activity. The Puffers received their food, our came before we ascertain what they had ordered.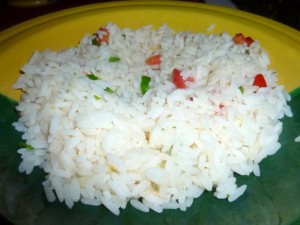 The Indian Lamb Curry looked better than the above left photo has captured. The Masala was Minimal but Red. I had at least avoided the Soup that Marg's Chicken Pomegranate appeared to be. Two good sized Plates of Boiled Rice competed the order. Where did the attempt at Biryani come from? This was Plain Boiled Basmati with the occasional pieces of Fresh Green Chilli as a Garnish. Most of these ended up on my plate. (Pilau, or whatever they thought this was was an extra £1.50).
With a Bowl of Curry and a Bowl of Rice a decision had to be made. Curry with Rice is my preferred option so half the Rice was poured over the Curry. A third Plate finally arrived, but too late. The Minimal Masala on the Lamb although thicker than Marg's Soup had little sign of an Onion Base.
I believe no Ginger or Garlic had been harmed in its creation. The Rice absorbed most of this anyway, so let's concentrate on the Lamb. There was a sufficient Lamb of Reasonable Quality, cooked enough to need a bit of Chewing. The Flavour was Modest and lacked any Real Depth. The Major Kick appeared to come form the Chillis on the Rice. Had I ordered a Tunisian Lamb Stew I would have been quite happy with this. Indian Cuisine? – No Way! Too many Standard Ingredients were not present, yet we have passed them all in The Souk.
What does cooked Pomegranate taste like?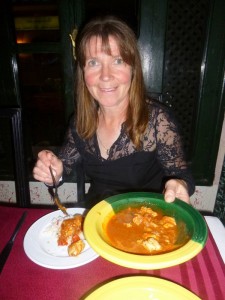 We are none the wiser. There was nothing distinctive about Marg's Chicken Dish other than the Runny Sauce. I tried a bit of the Chicken, tending towards the Stringy I thought, which Halal tends not to. It wasn't Bad, Fairly Spicy but no Distinctive Taste – was Marg's verdict.
We had waited over an hour for a meal we ate in ten minutes. We ate the lot, Hector and Marg were seriously hungry by 22.00.
Marg, who had a better view, observed The Lady Puffer not eat her Chicken Curry.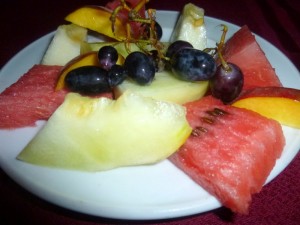 Does the Reader believe I derived any Pleasure from this?
A Plate of Fresh Fruit when I asked for The Bill.
The Bill
50.000 TND. £20.00 in Real Money.
The Aftermath
There wasn't one really. Indifference Rules OK. The Calling Card was not left, they didn't deserve one. The Waiter had done nothing to engage. Where was the welcoming Chap we met yesterday?
No more Curry-Heute perhaps until Tunis. Can Hector find either the Dum Pukht or the Golden Tulip (Calcutta)?