It has been a very long week, this Work thing gets in the way of Enjoyment. Steve must have been in a similar frame of mind and decided to join Hector for the Friday Teatime Ritual Curry. The Punjabi Charing Cross (157-159 North Street, Glasgow, G3 7DA) was the chosen venue, Ballast before the promised Oakham Ales at Hengler's Circus.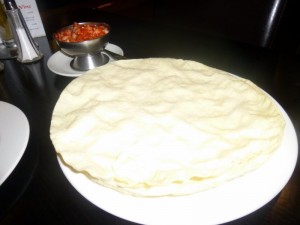 Hector nibbled on one of the Two Complementary Poppadoms with Spiced Onion for the few minutes before Steve's arrival. The Menu was provided but never opened. Steve was happy to share a Keema Padora before a Boneless Lamb Gurmeet. To keep things simple, Hector went Boneless this evening also. Hari, Mein Host, was surprised that I opted out of Bones. He also noted – Keema Padora, Starter – which made me wonder if a Main Course version could be made available? That might be more than the Pleasure Points could endure. My request for One and a Half Chapattis was not taken seriously, Four in all were ordered.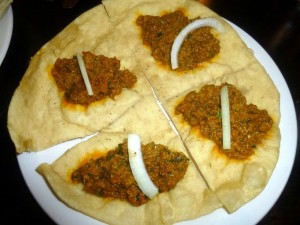 This was Steve's first experience of the wonder that is the Keema Padora. To come to the Punjabi and not order this Starter would now be unthinkable. The Driest of Mince with a Perfect Balance of Spice and Methi, served on a Puri – this definitely has – The Wow Factor! Steve was impressed, it will not be his last Keema Padora I suspect.
After a suitable break, Hari brought the two Karahis of Lamb Gurmeet. With no Bones, the Volume of Lamb felt appreciably more. The Lamb was cooked to perfection, Hari warned us that Bone Slivers may be present as the Chef had used the Stock from the On-the-Bone Pot in his preparation. As it happens, there were none. Instead we were treated to yet another consistently well produced Curry with the Delightfully Thick Masala featuring a Significant Methi content. The Seasoning was right on the Limit, more and the Dish would have been Salty. Without the presence of Salt, the other Flavours do not emerge. This had sufficient Seasoning to maximise the Pleasure Experience, in short, a Perfect Curry. The Chapattis were Huge, as ever. One and a Half is my limit. How does one secure a Half Chapatti?
Hari enquired afterwards if I had noted any difference between the Boneless and On-the-Bone versions. Whatever wonders had been done in the kitchen I had to admit that this was indistinguishable. This was Curry, cooked exactly to my requirements. Wonderful.
The Bill
£28.80. In some Venues this would be the charge for Two Mains.
The Aftermath
The Battle of The Brewers was well under-way. Oakham will win it hands down.