I have never seen a Curry Haus in Düsseldorf – remarked Dr. Stan as we walked from Uerige back to Königsallee. Dr. Stan agreed with Zebedee, he had been here the bulk of two days on his Lonesome, and so disappeared. Hector had just arrived. Travelling from Scotland to Nordrhein Westfalen on a Friday night used to be Simples, alas no more. I made a connection at Heathrow, just.
In theory, the Taj Mahal (Oststraße 143, 40210, Düsseldorf, NRW) was open until midnight. That the front door was wide open and welcoming put Hector's mind at ease. There will be Curry Heute.
Mein Host greeted me in English. He was quick to tell me they shut in half an hour, I had timed it to perfection. The Menu was provided, Marg phoned to tell me her Exciting News. It was all happening at once.
Lamm Chops – The Menu boasted proudly. I spotted Chapattis at €1.90, but then wondered about Inclusive Rice. Mein Host basically told me I wasn't having Chapattis, I was having Rice. OK then. He returned moments later to inform me I wasn't having Lamb Chops either. Right, A Dry Lamm Curry.
Dry Lamm Curry –  was announced in the general direction of the Kitchen.
Sprudel
A Bottle of Gerolsteiner Sparkling Water was The Tipple.  What else?
A Basket with a solitary Poppadom and two Small Dips was set before me. I was advised that the Red One was Scharf. Acutally, we hardly exchanged a word of Deutsch – Hot – then.
German Poppadoms can be outstanding, especially when they have embedded Cumin seeds. This did not, but the Scharf Sauce lived up to the warning. This was a Hot Dip. Tremendous.
The Curry arrived before I had polished of The Bits.
Lost in Translation, again
Trocken. I had it right this time. The one word of Deutsch I had spoken to Mein Host.
More Boiled Rice than a Man would normally eat and a Plate of Runny Curry were presented. I counted Seven Pieces of Lamb and the Heart Sank. Then I realised they were all substantial. At home I would have halved them.. And so I did, enough Lamb, just. The Lamb was Tender, I suspect it had just recently made the Acquaintance of The Masala.
Once could have dismissed the entire Meal at this point as being yet another Disappointing Euro-Curry, however, things became decidedly positive. The Masala was Thin and Oily. Well Thinner than I would have hoped for but it did have Body. It was not Red, a Bonus. Cream was evident, the word Makhani came to mind. Hector's Mouth was still on fire after the Hot Dip, but even so, a powerful sense of Citrus came on to The Palate. This Masala was not Breaking Bad at all. Indeed, I realised I was thoroughly enjoying it.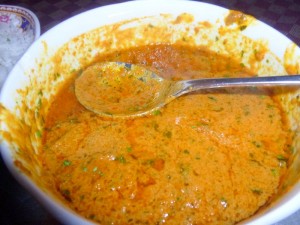 I would never have picked this off a Menu. Was this Dish on The Menu? I piled on more Rice. The Leftover Masala went down a Treat.  A thought,  with Fish, this could well have been Perfect.
Altbier and Runny Curry, perhaps the Perfect Düsseldorf Evening?
By the time I had finished eating I had noted a Strange Tongue being spoken by all the staff. It wasn't Polish, or Russian but at times had audible similarities.
The Bill
€15.70. I could have been charged anything, what I had was not on The Menu. Comparable to a Glasgow Curry, price-wise.
The Lamm Chops were €16.90, a pity.
The Aftermath
The Calling Card was studied well. It does work better in Deutschland. They know – Today is Heute.
I had to ask about the Spoken Language. Portuguese. All The Staff are except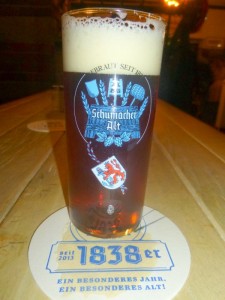 The Chef, he is Indian. Maybe Dry does not translate?
This Venue does not score highly on other Websites. I cannot fault what I ate this evening. I would certainly return, but there are another six Curry Houses to choose from.
Schumacher was still open after midnight, a first?  Quality Control insisted I enter.
Until December.