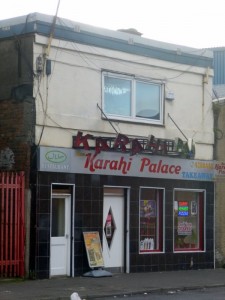 Hector was Hungry. The New Karahi Palace (51-53 Nelson Street, Glasgow, G5 8DZ) has not been visited for four months. That I have been tasting signs of their Karahi in recent Curry Outings has seen it bubble up once more as a priority. I could eat here every week, even more if funds permitted. Not that this place is expensive, far from it.
The Bill
£10.00. I paid by Plastic here for the first time ever. The Meal was paid for at point of ordering, my choice.
And so to Food
Shahed's hand was extended across the counter as I approached. Yes, four months have passed since the wonder that is the Karahi served here. I asked for Dry and Methi as a reminder. Karela was enquired about, but Shahed stated with an air of authority that tonight I was better off ordering the straight Lamb Karahi which would be served on-the-bone. Two Chapattis were required. Did I mention I was Hungry?
I took a Can of Rubicon Mango from The Fridge and took my seat. One other Diner was near completing his feast. There was no acknowledgement.
The TV amused me with the Bollywood Videos of a seedy Chap pursuing a Charming Young Damsel. There was activity in the Bedroom and even in the back-seat of a Car… how they sang their hearts out… A Plate of Salad was brought which rich in Fresh Onion. Normally the impressively Thick Ratia accompanies this, but not tonight. The Salad was ignored.
Shahed brought the Curry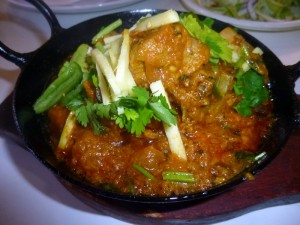 Rasheed had worked his Magic once more. The Karahi was Blistering Hot, there was an Audible Sizzle from the Base where the Ghee was Bubbling away. The Generous pieces of Lamb were shrouded in a Thick Mush of Tomato and Onion. This style of Masala I have come to associate with somewhere around the Pakistan-Afghan-Punjab part of our Planet. The first of the Two Chapattis accompanied the Karahi, the second arrived moments later. Both were Rich in Texture, Meals in themselves. The First Dip did not immediately give – The Wow. However Dipping to the Base of the Karahi, Hector knew already this Big Flavours would be found here. Indeed they were. The Kick was Significant, more – Wow. The Lamb was not all on-the-bone. A Lamb Chop was discovered in the Mass of Meat. Such Wonderful Lamb.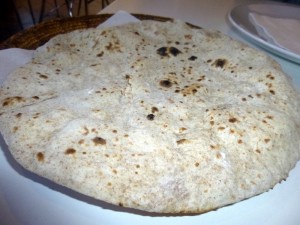 The normal intake of 1.5 Chapattis was exceeded, both were destroyed.
Did I mention I was Hungry?
The Aftermath
This evening the nearby Laurieston was receiving its first CAMARA POTY Award. The Usual Crowd had assembled.
Eddie, a Regular Reader of Curry-Heute came over for a chat. Haven't seen him ages. Eddie was right up to date and quoted my last Deutsche Curry in Frankfurt at the start of this week. Impressive, and always appreciated.