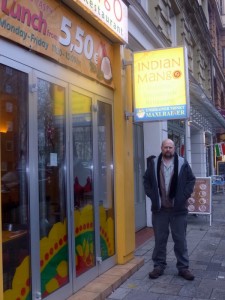 Somehow it only feels like Four Weeks since my last visit to the Indian Mango (Zweibrückenstrasse 15, 80331, München), it is. Readers will already know how highly Hector rates this venue. Is Hector now planning Trips to München for Curry or Bier? Curry at this Venue is a Life-Changing Experience.
Arriving in the City at 10.30, Marg and Hector were able to check-in to the Hotel Royal just on 11.00. With a Marg Ritual completed at Café Piemonte, it was Hector's turn. The Non-Curry parts of the day feature here.  The walk down towards the River Isar feels shorter every time I do it. The Illuminated Yellow Sign that protrudes towards the end of Zweibrückenstrasse is a Joy to behold, the Indian Mango is open.
Herr Battra was at the door to greet us. He showed us to a table and knew the order would be Fisch Chettinad (Scharf). Marg was the observer, the Apfelstrudel at Cafe Piemonte had taken care of her appetite.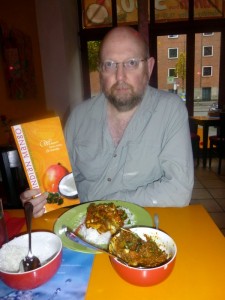 The wait was surprisingly short, but then Fish cooks in moments. The Aroma from the Dark Red Chillies is so Distinctive, Smoky! The Rice was decanted and then half of the Curry. The accompanying Photo shows a very Reserved Hector, as always. On the inside I was Beaming. The Pleasure that this Curry gives rivals the Best of Bradford and Glasgow. I have described the Gritty Texture often, the Slivers of Fresh Ginger add huge Bursts of Flavour, everything on the Plate combines so well. The Fish adds a Dimension that Lamb cannot. Herr Battra remarked that – A Friend of yours was here recently. Ah yes, John, but he didn't have the Fish!  The Lamm Chettinad comes a close second.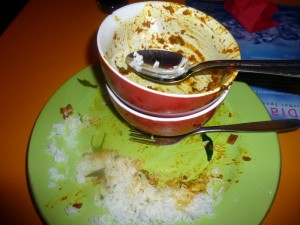 There was a feeling of Sadness as I reached the end of the Eating Ritual. Hector has no Plans to be in München any-time soon. It could be the same weekend next November before Marg and Hector find themselves back in this Wonderful City.
The Bill
€19.50. €5.60 of this was for two Soft Drinks.
The Aftermath
We bade farewell to The Staff. Now what else does München have to offer?