This was a Long Day
A Day Trip to England saw Hector and The Company at the Drover's Rest (Monkhill, Cumbria). The train back from Carlisle arrived at Glasgow Central just after 20.00, every minute mattered, Comedy of Errors had no doubt taken the stage at the Classic Grand around 19.30. It's only a few weeks since I caught most of their set, Marg had not seen the band since their Reunion Gig in May 2011 at Scottish Prog Night. Two Albums later…
Comedy of Errors
The Cause from the current album Fanfare and Fantasy was well under-way as we took up Our Spot, Stage Left. The last time I saw Euan Lowson on-stage was in January 2002 when Friend – Ian – promoted the Pallas Gig at the Rossland Tavern, near Bishopton. Euan was there too and complemented the then Vocalist – Alan Reed. Tonight he came on and joined Joe Cairney for the last song of The Comedy of Errors Set – The Student Prince. This appeared to have been well rehearsed though Joe admitted later he had colour coded their respective Lyric Passages.
This is my Customary Spot when watching Pallas. No sooner had we taken up our positions when Euan passed by, a Photo!
The In-between Music
DJs always manage to play Totally Obscure Album Tracks between Bands, I couldn't name it, but for once tonight I had it.
Pallas
Prior to the Music, Graeme Murray called for a Minute's Applause as a means of Respect/Awareness for the victims of the Helicopter Tragedy at the nearby Clutha. 
Crown of Thorns kicked things off with Niall Mathewson's Guitar (Stage left) dominating the sound, the balance was well off. Graeme Murray's Bass Pedals did their best to compete. Ronnie Brown on Keyboards may as well not have been there for this First Track. This was the second time I had seen New-boy – Paul Mackie. It was he who suggested Hector visit the Echt Tandoori, a Great Tip-off, thanks. Yes, this is a Curry Blog, but Curry-Heute was still uncertain.
The last time I saw Pallas was in 2010, at the Aberdeen Tunnels, when they performed much of the Slightly Disappointing XXV. Paul had recently joined, having become used to the Lowson/Reed era, this was different. He did well this evening singing with conviction an array of Tracks from the Earliest of Days and even a Couple of New Unreleased Tracks, the second of which could be Very Interesting.
What made tonight all the more enjoyable was the fact that The Set was drawn from the entire Pallas Back Catalogue. Even a couple of the Tracks which IMHO may not have the Best of Starts usually develop into something worthwhile. There was a lot of Quality Music played tonight even though Midas Touch was the only Track taken from the outstanding – The Cross and The Crucible. This Album I consider their best Work since the days of Atlantis.
It was no surprise when Euan returned to take Centre Stage for the Atlantis Sequence. Euan on Stage is Worrying. A Great Vocalist, how much is Acting, how much a (Natural) High? Paul once again finished The Set as Lead Vocalist for Arrive Alive then Cut and Run.
A Former Pupil came over with his Lady and introduced themselves after the Gig. He had been to Malta for Ian's (aforementioned) Wedding.  Joe Cairney and Thomas Bodin (Flower Kings) were there too. Joe joined us, cue the Final Photo.
How many Copies of Altlantis do I need?
I went to the Merchandise Stall and managed to avoid purchasing another (different) version of The Sentinel but had to buy Set-list 2013, The Set I had just watched. On Two CDs for £10.00 a good buy, I hope. This is the recordings of the Rehearsals m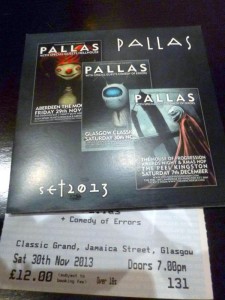 ade earlier this month. On my way out I shook Graeme Murray's hand, whether he wanted to or not. The Schoolteacher – is how I have been known in these Circles for the last Thirty Years. How many People have I taken to see how many Bands. Fact, I have seen Pallas live more than any other Band.
The Punjabi Charing Cross
Hector hadn't eaten. Curry was required. A Keema Mutter would be Light in the Stomach at 23.00, I hoped. The Punjabi Charing Cross (157-159 North Street, Glasgow, G3 7DA) was the Optimum Venue this late. Hari and Ram gave their usual greeting as Marg and I entered. August 30 was my last visit. Three Months? Where did the time go? Ram was interested in discussing my visit to the New Cafe Salma. I assured them that Shenaz and Akbar's are their main Competition.
Marg had eaten and so a Vegetable Pakora was all she desired. Two Chapattis to Accompany the Mince. Complimentary Poppadoms and Spiced Onion were brought with a sense of Immediacy.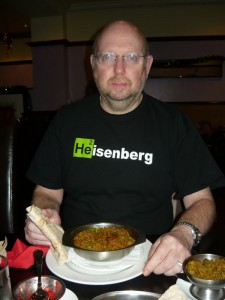 The Main Course came just as I was finishing. Hari said he would bring – Something else – too. This was a small Dish of Something Cold. I could Taste the Pickle but could not identify what the Main Mush actually was. It was Karela Pickle. I have some in my Fridge, I would never have eaten this Raw/Cold. I stirred some into the Keema Mutter which was still Piping Hot. The Excellent Chapattis scooped up the Mince and Peas, this was Fun. Meanwhile Marg had polished of her Pakora.
The Bill
£16.50. Two Soft Drinks were included.
The Aftermath
The only other Diners approached me as they left. The Lady had just come here for the first time and was well impressed. She wondered if I had been before. I gave her the Calling Card, she can check back, Hector and Marg were the First Paying Customers.