One does not go to a Barrel Party on an empty stomach. A substantial intake of Curry was required before partaking in the finest Brews from Löwenbräu (Buttenheim) and Pyraser. With Lord Clive of Crawley in tow, the two drenched bodies entered The Wee Curry Shop – Byres Rd (41 Byres Road, Glasgow, G11 5RG) at 12.40. We had exactly forty five minutes until we had to leave for our next rendezvous. The Chef smiled giving a Warm Welcome. We asked the Waitress if they could feed us in forty five minutes. The Chef asked why we were in such a hurry. A Taxi Booking was admitted. We were taken upstairs to the Mini-Mezzanine and joined two other Couples. As the name of the Venue suggests, these premises are small.
Clive suggested Methi Keema Mutter as this would have to be Quick, however it only appeared on the Two Course Lunch Menu. No time for Two Courses. The Waitress was happy to serve two portions a la carte. Clive suggested Aloo Paratha – Times Two. A Sparkling Water for Hector was ordered, a glass of Tap Water was provided for Clive. We were set, efficient, painless, now for hopefully a short wait.
We had time to take in the Aroma. The Most Beautiful Curry aroma hits you on entering. Upstairs if felt even Stronger, Magnificent, it catches the throat. If one is not in the mood for Curry on entry, this can no longer possibly be the case. The Taste-buds were already anticipating.
Engrossed in our own conversation, we did not know the state of the other Couples. Had they eaten, had they not? That our order arrived before one of the other Couples was appreciated by us. But then the Keema had to be a reheated job anyway.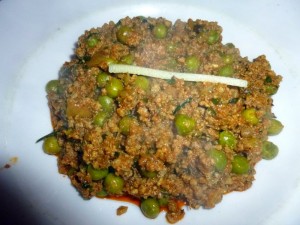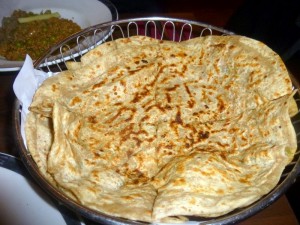 Bread is typically served Hot. For this, one needed Asbestos Fingers. We didn't have time to let the Parathas cool down. Hector ate a Keema Mutter and Aloo Paratha with a Knife and Fork! A First.
The Mince was Suitably Spiced with a Dry Earthy Taste. There was no Great Methi Blast.  A Small Agglomeration of Oil collected at the Base of the Dish, Perfect. The Keema was slightly Under-seasoned for the Hector Palate, however, the Paratha had the required Level. The two worked in Harmony. A Great Double Act.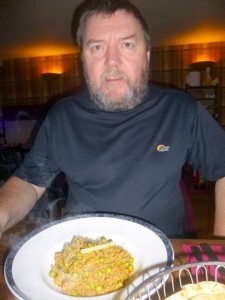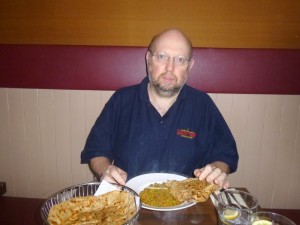 You've definitely got me into Parathas – remarked Clive. I haven't had a Nan in ages.
This was exactly what was required. Somewhere between a Snack and a Main Course, Keema Mutter is always an Excellent Choice. This was a Fine Example.
The Bill
£22.90. Worth Every Penny.
The Aftermath
The Calling Card was given. You haven't had one of these for a while.  In fact it's over Two Years since I last ate here. Where does the time go?
And so, back out into the rain. It was Torrential…
Rebranding – Update 2015
This former branch of the Mother India chain has been re-branded – Little Curry House.  Hector will investigate.