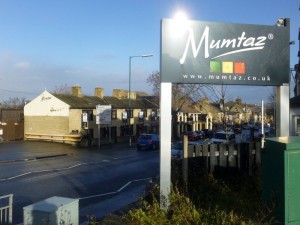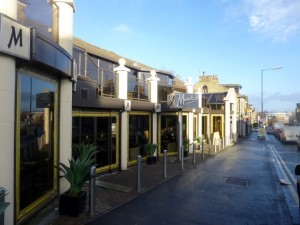 May 1st, 2006 was Hector's last visit to Mumtaz (386-410 Great Horton Road, Bradford, West Yorkshire, BD7 3HS). A return was long overdue. With Craig and Yvonne still in tow I decided to take them somewhere another Reliable Bradford Curry would be served, and somewhere they had not been before. That Mumtaz opened at 11.00 was also a Major Attraction. We arrived just after Noon. The Car Park across the street was quite empty. The Waiter showed us to, You've guessed it, a seat at the Window. Not only that, he offered us the Table adjacent to the then Lone Diner. He would have had to move to let us take our seats, crazy. We declined this Table and moved to a more Interior Table and away from the Lone Diner. He deserved to Eat in Peace, surely.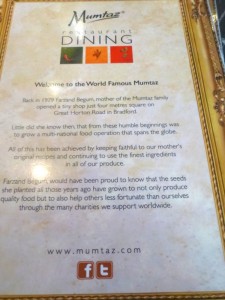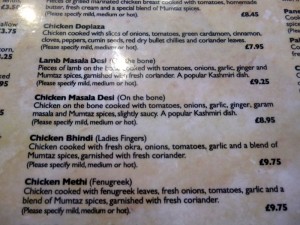 The Menu was printed on a Large A3 Sheet. The Prices were a couple of Pounds above the Bradford Norm (where Hector frequents) but this is the Flagship Bradford Curry House. From Humble Beginnings this Venue has grown into a Massive Restaurant on Two Floors. They must be doing something right.
Mocktails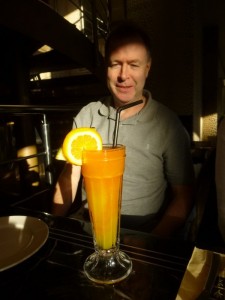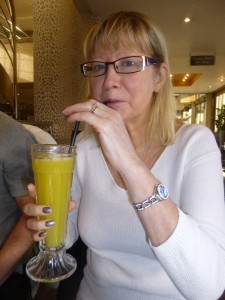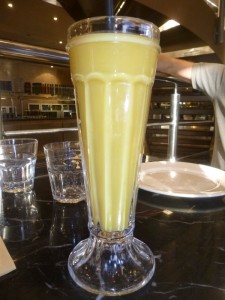 Given the size of the Premises, it is interesting that they still do not serve alcohol. I congratulate them for this. Hector goes to Curry Houses for Curry. Craig ordered a Tropical Fruit Mocktail whilst Yvonne ordered a more simple Fruit juice. Marg was not put off by the somewhat excessive £3.95 for a Glass of Mango Lassi. All these Soft Drinks were around the £4.00 mark, well one doesn't have to order them. Hector stayed with Water.
Starters
Craig and Yvonne ordered Starters, Seekh Kebab and an Aloo Tikki, a Potato Cake, respectively.
Breads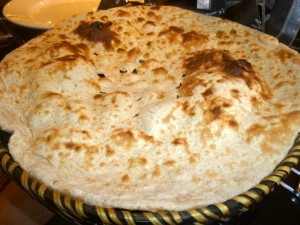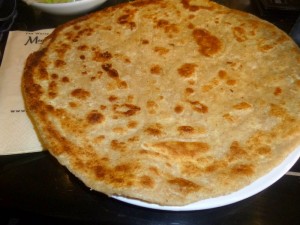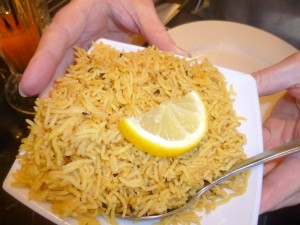 Now at this level of Dining, the Bread is not Inclusive. Chapattis are not on offer. It is £0.95 for a Roti, £2.25 for a Plain Pratha and £3.55 for an Aloo Pratha. We ordered Two Roti, a Plain Paratha and a Pilao Rice.
By ordering Bread and a Soft Drink one could already have brought The Bill to a level Higher than a More Typical Bradford Curry house. Poppadoms were declined.
Karahi Lamb for Three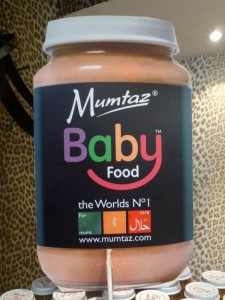 Marg, Craig and Yvonne all went for Lamb Karahi, Two Medium, One Baby Strength. They do actually sell Baby Food at Mumtaz! Hector had to try the Lamb Masala Desi served on-the-bone. When I first visited Mumtaz back in 1996 I had never heard of Desi and did not appreciate the difference that on-the-bone makes.
A Photo Opperchancity
Hector took the Camera and wandered around the Venue snapping everything. The Place is Vast. The Entry Vestibule is capable of sheltering the Masses before they are seated. The array of Mumtaz Produce is visible and on sale. The Upstairs is where I have tended to sit, closed this early. The Window area where we were seated did fill up appreciably during our visit. Lunchtime Curry, I wish more Venues opened this early.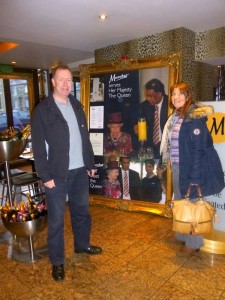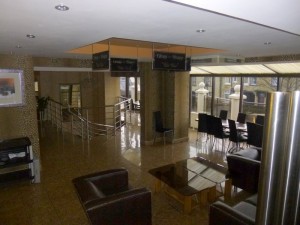 A Review?
This was our Fourth Curry together in almost as many days. The Starters were enjoyed by those who had them. The Aloo Tikki looked like a Fish Cake. The Seekh Kebab appeared Pale, I declined to sample it.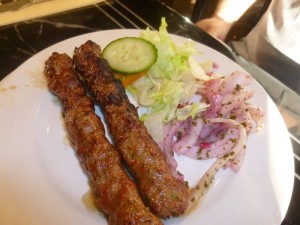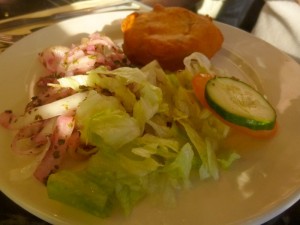 The Karahi Lamb was thoroughly enjoyed. Once again, Very Hot Plates were presented. This makes a difference. Craig was in full praise for Bradford Curry. He has heard me sing their praises for as long as he has known me. It would appear he is now on board. He does not go for Curry Four Times in a week at Home. Yet?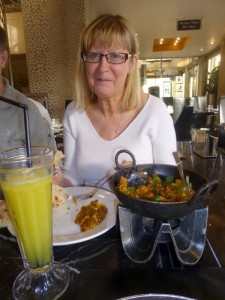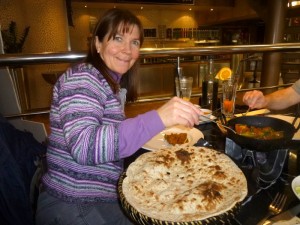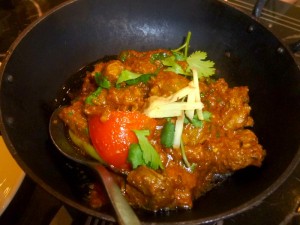 Hector could not fault the Quantity or Quality of the Lamb. The seasoning was Sound, the Masala Thick. Everything I look for in a (Bradford) Curry was there.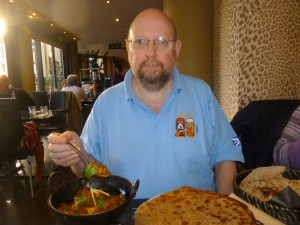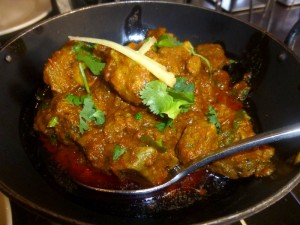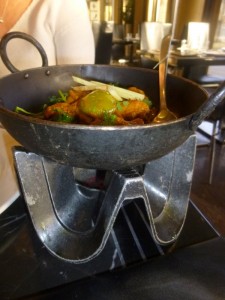 For those seeking a Big Night Out then Mumtaz has to be considered. I have had to Queue in the past for a Table, it does get that Busy. However, the Same Quality of Curry, or Better, is available down the road in Less Salubrious Surroundings.
The Bill
£57.95. 150% of The Norm for Hector. It had to be done. If only to have a visit recorded for the Era of Curry-Heute.
The Aftermath
The Calling Card was offered to The Chap at the Cash Desk.  He promised to pass it on to The Boss.  meanwhile Hector had to purchase some Mumtaz Branded Oils.
There was a long drive North. The next Curry-Heute will be in Glasgow, but where to First Foot?