The Yadgar Kebab House (148 Calder St., Govanhill, Glasgow, G42 7QP) as Regular Readers know is Hector's Favourite Glasgow Curry House. This is the #57 Review that has been written. All Cliches about Variety avoided.  What more can be written to describe the Superb Quality of Food Presented? Hopefully Shkoor and Hector can now be considered to have a Symbiotic relationship, he arranges the the Provision of Outstanding Food, I report on every Dish served. The request to Feed Two was placed at the start of the week. 18.30, Saturday. At the Eleventh Hour, Marg announced she would join Alan and Hector on their Chaps Night Out. She accepted that the anticipated Kilo of Goshat Karahi (on-the-bone) might be beyond her current level of tolerance. We would see.
Arrival 18.18
Ahmed hasn't been seen for some time. Another Chap who has been more usually behind the scenes has been Out-Front in recent visits. Another name to track down. One day Shkoor will give me a list of everyone involved in producing the Wondrous Curry that is Purveyed on these Premises. In my Three Years of Visiting Yadgar, the Staff have hardly changed. Mr Arshad, the normal Chef was not spotted this evening, however it is still possible that the Goshat Karahi was prepared under his Tutelage.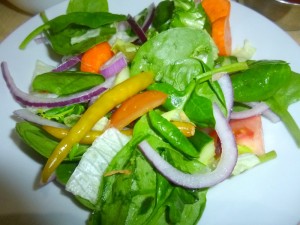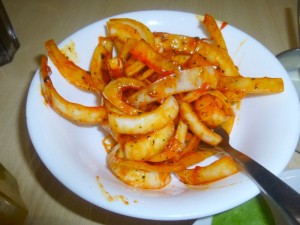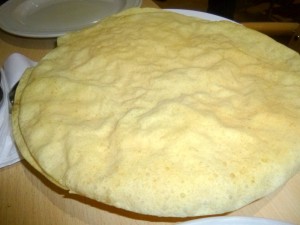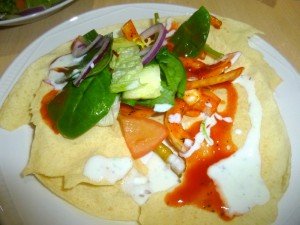 Poppadoms, Salad, Spiced Onion and Dips were brought to Kick off the Feeding Frenzy. Alan remarked that the Chilli Dip had Vapour rising from the Dish. The Spiced Onion took him aback also, Really Spicy.
A Work of Art – was how Alan described Hector's First Platter.
Where's Marg?
We have started without you – was the Text sent at 18.42. The place was filling up, we were sat at a Small Table where The Staff usually Snack. Was she outside? Eventually we were Three. Vegetable Pakora was Marg's order.
Scottish Haddock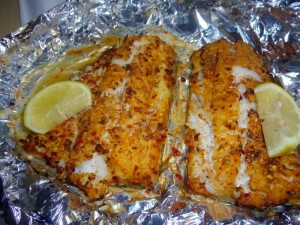 The Fish Starter is now the accepted part of Being Fed. Wherever this Sourced I would love to know. The Freshest of Fish covered in Spice and Baked in Foil. Two pieces presented, Alan identified one was Slightly Larger – That's Yours! This was Alan's First Yadgar Fish, it went down well. Marg managed a Little Nibble. The Fish is remarkably Light, but one knows the volume presented is significant, and also  what is to come.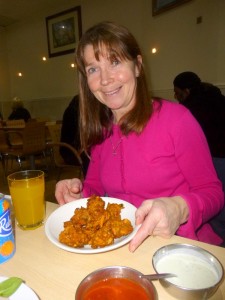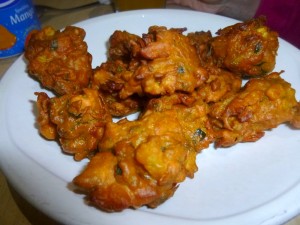 The Vegetable Pakora came before The Main Event. Marg only managed Half. She found it Too Spicy. This I found hard to believe, but I dare not sample any, not with a Mountain of Lamb imminent.
Shkoor offered Mince Paratha. This was declined, I told him my Experiment here was over. Chapattis would suffice.
Here We Go – Again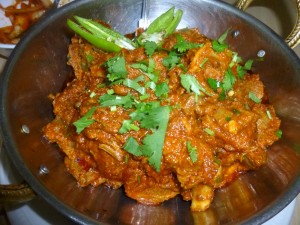 There is nothing which Pleases Hector's Visual Cortex more, that's a Star Trek NG reference, than the First Glimpse of a Kilo of Yadgar Goshat Karahi. The majority of the Lamb was on-the-bone, there was quite a bit on the Base which was Boneless. One can start Tentatively, then one eats towards One's Fill, then… Overdose? Total Satisfaction! With the Minimal, but Rich Masala, the Unique Yadgar Taste reveals itself and Comforts the Palate. Hector is always Slightly in Despair when he witnesses people ordering Chicken. They know not what they miss. Their choice.  Lamb is Mine.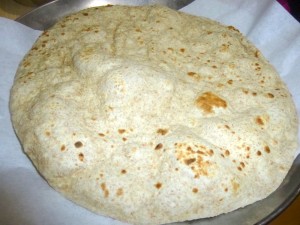 Three Chapattis accompanied The Feast. Quite sufficient. No need to fill on Bread. In the end the Pile of Bones was a welcome sight, The Endgame. Shkoor reappeared. He saw three small pieces of something left at the Base of the Karahi. We could do no more. Marg had even Nibbled. This she enjoyed, it was within her Tolerance Range.  She was full from Match Teas she admitted later. Shkoor forgave us.
We have to get Hector eating White Meat somehow. – was Shkoor's acceptance that with The Fish to Start, the Kilo between Two is Challenging.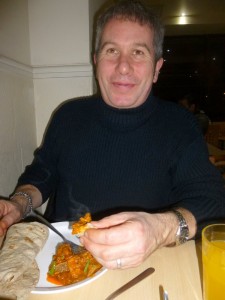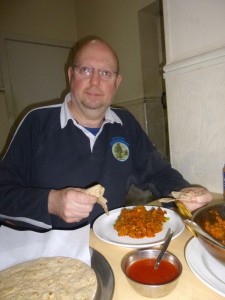 Alan admits to reading These Humble Pages. He will no doubt deliver his Verdict.
The Bill
There was a Bill. Hector will admit to no more.
The Aftermath
The Chaps had a Quiet Evening reminiscing over Times Past, NOT!
After a Variety of Bock at the Allison Arms we found ourselves watching Slow Train at St. Louis. Who are These Guys anyway?