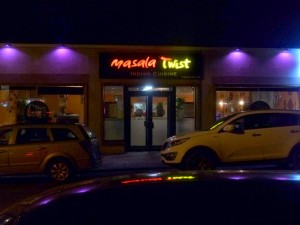 It is evident that Hector has not really rushed back to the Masala Twist (29 James St., Helensburgh G84 8AS) since its October Opening. The monthly late evening commitment kept me back so Curry-Heute was in order. Marg decided to join me, well who else was going to feed her?
Entering at 17.45, one of the Curry-Heute Readers was already in situ, yet we didn't really acknowledge each other, pity.
Mrs  Desi Lamb
We were asked if we wished Poppadoms, and so they were declined. If they had wanted us to have them, they would have been brought. Who pays for Poppadoms? Marg came out with Lamb Desi within seconds of studying The Menu. Whatever happened to to Miss Chicken Korma? This made Hector return to a consideration of the Karahi. Last time they substituted Potatoes for the Dreaded Green Mushy Vegetable, there was a resolve to try this again. The Young Waiter pronounced Lamb Desi as his Favourite. He took my order, Potato substitute and all.
Last time the Paratha did not live up to Expectation as is explained by the Manager in his response to my last Revue. Now when did Hector last order a Naan, a Rarity. A Garlic and Coriander Naan (£3.25) it was then, to share.
The Head Waiter was over moments later. The Capsicum was already in the Karahi. They could not provide what they provided last time. Strange. But then last time the Karahi served to Hector looked like a Variant of the Madras served to Steve. The Hector Curry was described – Lamb, Extra Methi, Seasoning too, and as Dry as The Chef can manage. It was suggested that a Bhoona Base would be used. At least this suggests Dry at the outset.
This was Marg's first visit, she was impressed by the sheer size of the Venue. Around half a dozen tables were occupied, more would surely come, it's Pay-day!
The Curry came remarkably quickly. Two Metal Pots on Wooden Boards and a Very Wet Naan. Marg decided to – do a Hector – and placed the Pot on her Plate, why decant? With the Photographic Ritual out the way we delved in.
Outstanding Naan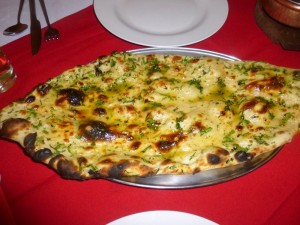 The Naan was Dripping Wet with presumably Garlic Butter. The Fresh Coriander had been liberally spread also. Naan Bread can be served too Thick which makes then akin to Pizza, hence why I rarely order them. This was nearer Thin and Crispy, the style of Pizza I never order. This Naan was truly superb. Easily the Best Naan I have been served in ages. It was so good, and disappearing so rapidly, we called over the Young Waiter and ordered another. Having slowed down a bit, this came at exactly the right moment. A Hot Fresh and slightly larger version!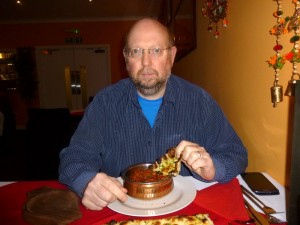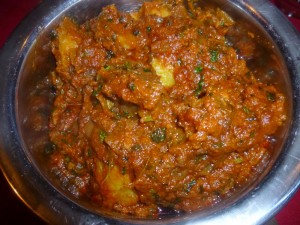 This looks good – was my exclamation when the Bhoona Variant was served. Marg's Desi was decidedly Soup-like in comparison. The Bhoona Texture was Spot on, exactly how I like Curry to be served. The Kick was also as asked for. The Overall Flavour was very Mainstream, this is a Curry I have tasted Hundreds of Times. It needed something, even more Methi, Seasoning? There was nothing to cause any criticism, this is how the Masala Twist serve their Curry one concludes. The First Curry after Manchester's Lahori Dera was always going to lead to a level of Disappointment, The Hector Palate reached a State of Nirvana last weekend.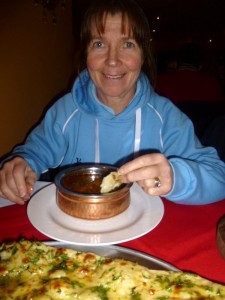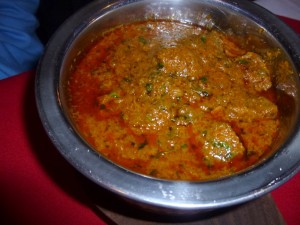 Marg described her Desi Lamb as – Earthy. I had a Dip – Foosty – was my reaction. The two styles were not compatible, had I ordered this Soupy-Curry it may well have gone down well, alas, not his evening.
The Young Waiter, the Head Waiter and one of the Main Men featured in the Newspaper Clipping in my last report all asked the Customary Question. We had to be Positive. Both Naans were Outstanding.
The Bill
£31.95. This was reduced to £26.61 with the 20% Loyalty Card. (Discount on Food Items only.)
The Aftermath
Marg returned to her place of work, Hector went on to discover there will be a Legacy after the Glasgow Commonwealth Games.