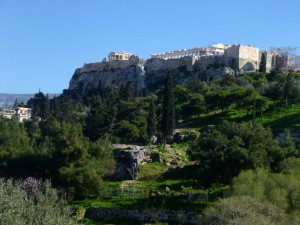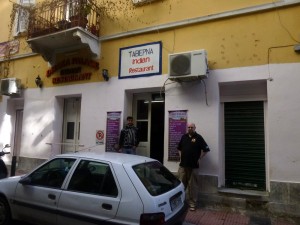 Hector and Marg arrived in Athens last night. The welcome was much cooler this time, no Rioting in the streets, no Tear Gas. The only disruption was the discovery that the Metro had been off all weekend, maintenance. Dr. Rick famously asked Hector two years ago why he was going to Athens to eat Curry. Last night's dinner explains why. Heading straight for the Restaurant at Monastiraki which had Proper Greek Food last time, we were horrified to find people smoking indoors. We left. The remainder of the Restaurants in this stretch all appear to only sell Grilled Fayre. Souvlaki is not what Hector seeks, Stifados – now we're talking, but where?
This morning Marg and Hector set off past Monastiraki along Ermou to find Mummy's Cooking – Traditional Greek Cuisine – it said. From the board outside we remain unconvinced. Later.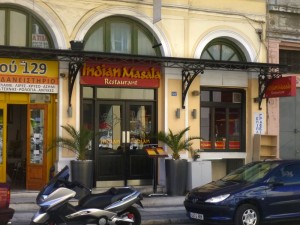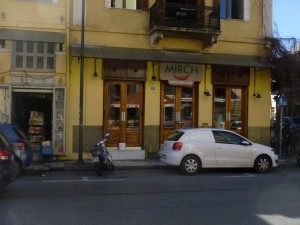 En route we passed the Mirch Masala Takeaway and the Indian Masala. The latter fed Hector a most acceptable Curry two years ago. The Mirch Masala I don't get.  The premises are Huge, the Largest Takeaway Only I may ever have seen.  They have a Wall with an Impressive Array of Bier on sale also.  Who goes to Plaka for a Takeaway?  Hector's plan this trip is to have Curry for Lunch, thus leaving Dinner for – Traditional Greek Cuisine. We shall see.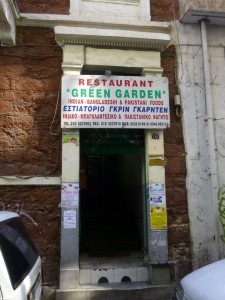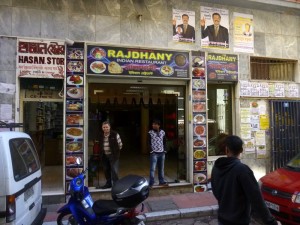 We wandered up Athinas towards Omonia passing all the Pet Shops. Passing? It's just as well the Puppies could not be taken home. My theory was that the Athens Curry House which has been recommended since the start of Curry-Heute should be open at Lunchtime. On Geraniou we found Two More Indian Restaurants within metres of our objective, the Rajdhany and the Green Garden. Complementary Competition. The Dhaka Palace appeared different on approach.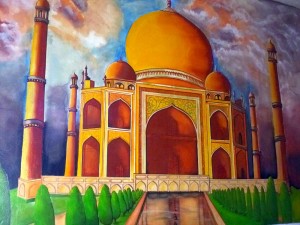 The Dhaka Palace is now re-branded – Curry Palace (Geraniou 26, Omonia, Athens, Greece), though the now Simple Sign above the door says Taverna, Indian Restaurant.  The Original Dhaka Palace Logo remains also, why change this?
As in our previous visits, the main room at the entrance was full of Chaps who appear to do little more than chat. This Venue is very much a focal point of the (Bangladeshi?) Community.
Mein Host – Shaghan Sanny, was there as always. We took our customary seats in the Back-room, one other Potential Diner was there, but mysteriously disappeared.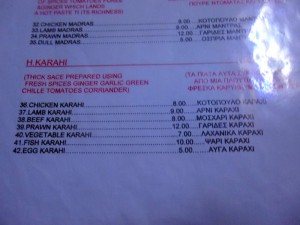 Marg would read her book whilst Hector Dined. Fair enough. Then she decided a Samosa would be in order. Shaghan suggested Two. I note last time she had Four. The Lamb Karahi has gone down well in previous visits, so has the Rice. But it was bang on Noon, too early for a Heavy Meal. A Garlic Naan couldn't possibly be at the Alishan level. The order was taken, Shaghan returned minutes later to confirm that I wanted my Lamb Karahi – Hot.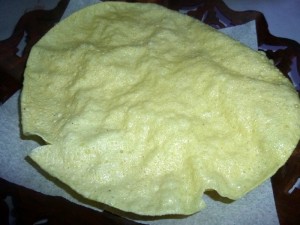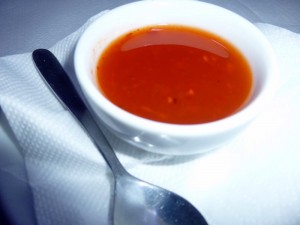 Three Poppadoms and and small Sweet Chilli Dip were brought to follow the Large Bottle of Still water.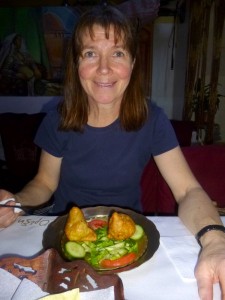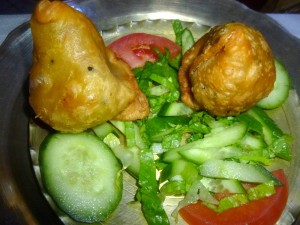 We were still Nibbling on the Poppadoms when the Samosas arrived. Tasty – was Marg's verdict. They were a strange shape but contained the expected Potatoes et al.
The Karahi followed soon. A somewhat Modest Portion, but perfect for this time of day.
Have a Starter if one is here for a Main Meal, they are Affordable.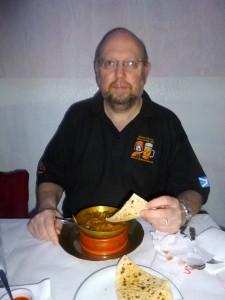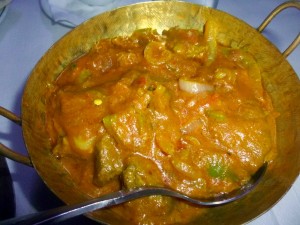 The Menu had listed Green Chillies, You guessed it, these turned out to be Capsicum. At least they were Slivers, not Wedges. The Masala clearly had a Onion Base topped with Yoghurt added at some stage, Very Pleasant. There was no sign of any Herb, though Cloves were found. The Seasoning hit me immediately, Perfect. Maybe this is the root of my enjoyment of the Curry at this Venue. The Kick was there, not excessive. The Lamb varied in Quality, as ever I was careful to deal with the Tiny Pieces of Bone that cropped up a few times. Cut Small, the Lamb Content was Sufficient, just.
The Naan did disappoint.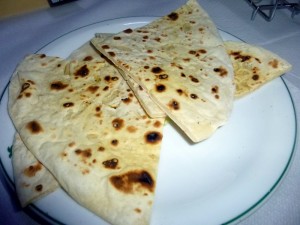 It was as much Pitta as Naan.  A Tawa Production, no sign of a Tandoor here. Bone Dry, no Garlic Butter here. Instead Garlic Cloves had been Sliced and Embedded. This packed a Punch Taste-wise. Still, too Peely Wally.  Rice is the Better Option at this Venue.
Overall, this was a Competent Curry with the Occasional Attention-grabbing Moments. The Dish Had the necessary Flavours, way better than the surrounding Fast Food Grill Shops.
The Bill
€14.00. Indeed, the Poppadoms were Complimentary.
The Aftermath
There was an exchange of Cards. Mein Host remembered me. Shaghan was happy to see the photo of us taken last time, he showed his colleague. He reminded me of our last conversation. He must think I own a Curry House, he wants to come to the UK and be My Chef.
I asked about the change of name, his former partner has departed, this is now His Venue alone.
Until next time.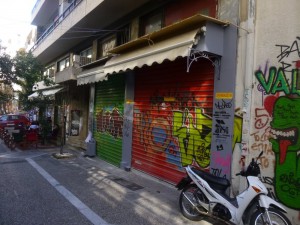 Thereafter we wandered beyond Omonia in search of a Potential Fun Indian Venue. If Barba George's Indian still exists, then this is the location. This has to be an Evening Visit.
As we crossed Omonia a Gauge said 18°C. Yes, Hector is wearing Sandals, and is out without a Jacket/Fleece. February 10, mark the date.
Postscript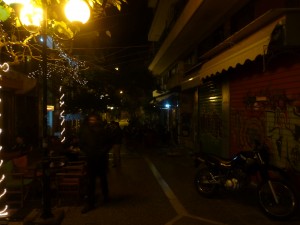 As we headed to Bierhof this evening we passed close by.  Barba George's Indian is either closed over the winter, or it has gone.  A pity.