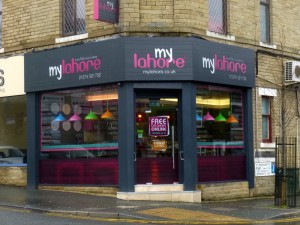 In the search for Pastures New, Hector consulted another Source to find this  Highly Rated Venue. MyLahore Deli (349 Great Horton Rd., Bradford, BD7 1QJ) was some way way up Great Horton Rd judging by the number. Verifying by Phone that they were open at 11.50 this morning, a Taxi was taken from Forster Square Railway Station opposite the Travelodge. This Travelodge has deserved to become Highly Recommended.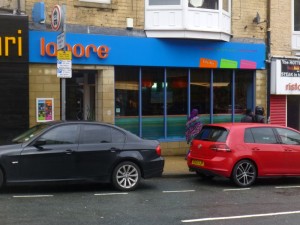 That this was The Deli and I have walked past The Restaurant at the bottom of Great Horton Rd. next to Omar's Balti House, and even been inside on a Lunchtime or two to find them – Not open yet – did take me aback, somewhat. So, I'm in The Deli. There were three Benches along the windows. Maybe Seven could be sat at a Squeeze.
Maybe Half a Dozen Chaps were busying themselves behind the Counter. Serving Curry is only part of this Set-up, I wasn't here for Sweets.  I did spot a Chef in the Kitchen at the rear, so guessed all was well.
A particularly helpful Chap was appointed to serve me. A Desi Meat Karahi, Two Poppadoms (£0.39) and a Can of Rubicon Mango was the order. I declined Salad, Dips et al.
The Bill
£8.15. I was told the Food would be served in Ten Minutes, it was
Whilst I waited I contemplated the Number of Venues I had passed coming up the hill, and I had not reached Mumtaz yet. Ricky has never recommended any Venue in this direction, so we would both be better informed by the time I had completed this Meal.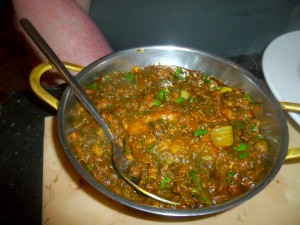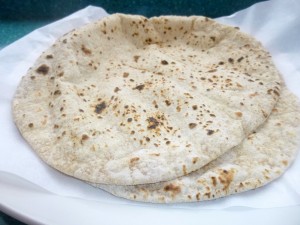 The Same Chap brought the Curry. The Portion looked a Perfect Quantity, given that this was Breakfast even a Little Less would have been acceptable. From the First Mouthful this Karahi was Distinctive, a Flavour I have never Experienced before. Impossible to describe, but the Tomato Content was Highly Visible, The Seasoning Exactly how Hector likes it, and the Flavour of Garlic did come to the fore during and afterwards. Mmm.
The Meat was Cut Quite Small as is The Bradford Norm. The Quality varied from Tender to Chewy.
The Two Chapattis were Standard Fayre. What one expects of a Chapatti.
The Distinctive Bradford Curry Flavour was there. The Meal was Pleasant, but maybe not as Impressive as my Favoured Bradford Curry Houses.
The Calling Card was given to The Chap who had served me. I asked him to pass it on to his Boss. This was a Busy Venue, I hope it reached the target.
Great Horton Rd.  –  Bradford