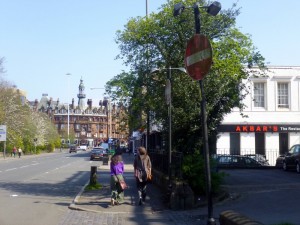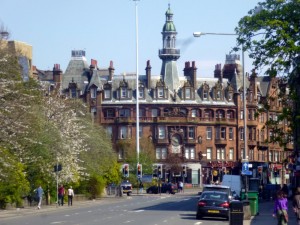 The Holiday Curry Season concludes with a visit to Akbar's (573-581 Sauchiehall St, Charing Cross, Glasgow, G3 7PQ). When The Mother of Hector is taken out for Lunch, it is no longer a question of what to eat, but where to eat. Curry-Heute is guaranteed.

Hector has not visited these premises as often as would have been predicted given that this is the only Source of Bradford Curry in Glasgow. Only on Sundays does Akbar's open at 14.00.
Mein Host, who always appears to be on duty, greeted us at the door. He is the Nephew of Shabir Hussain, the Owner.  Hector met Shabir in the earliest days of operation in Glasgow.
As we were here – To Dine – Poppadoms and the Pickle Tray were ordered. Or to be precise, the offer to buy them was accepted. Curry-Heute suggests that these should always be Complimentary.
Mother has never experienced Bradford Curry but knows that Hector is down there whenever possible. She was happy to follow my lead. Marg decided to follow suit. The Roshan Lal, without Capsicum, and served in the Desi-style was the order. That will make it simpler for The Chef – remarked our Waiter. The Ladies agreed to share a Garlic Naan, whilst I have been looking forward to a decent Paratha all week. Knowing that this can take Proper Preparation Time, a Mix Vegetable Pakora was ordered, to share.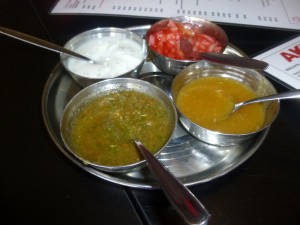 I love these – said The Mother as she nibbled on the Poppadoms. Mango Chutney has always been her Favourite Add-on. Today, the Spiced Onion in the Pickle Tray was also a focus of her attention.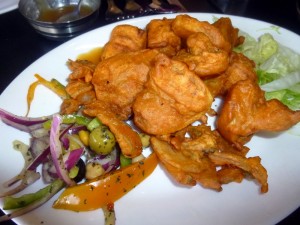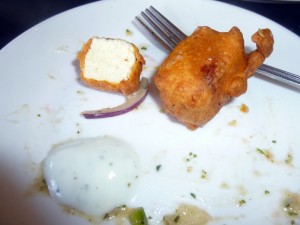 The Vegetable Pakora included Cubes which I at first thought were Chicken. (In a Vegetable Pakora?) They turned out to be Paneer, a First for Hector, and another uncanny reference to Cheese this week. With the Poppadoms, Dips and Pakora, there was enough to entertain The Three during the wait for The Mains.
Bradford Curry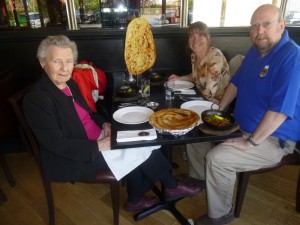 The difference between what is served in Glasgow and Bradford is Significant. Mother was quick to spot how Small the Lamb had been cut. Dry – was her next observation. No, she has never seen this Blog. This Curry was unlike anything she had ever Cooked or Eaten. She was already planning to bring a Friend here soon. The Flavours are remarkable – It's in the Oil – I offered.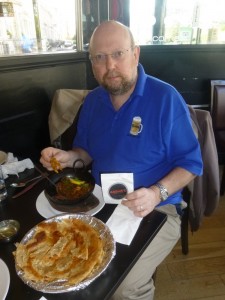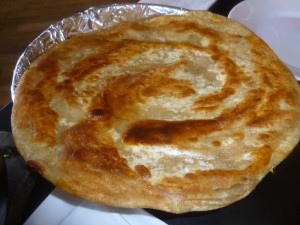 The Paratha was Stunning.  That looks like Pastry – was Mother's observation.  It is.  Freshly made, Flaky, Wonderful.  The Garlic Naan was presented on the Vertical Skewer, always an Attention Grabber.  Marg ate slightly less than Half, Mother merely Nibbled.  Never order Two!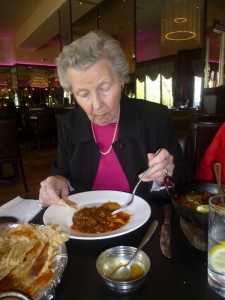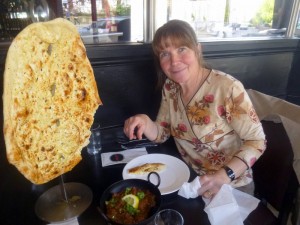 Mein Host was interested in The Mother's Verdict on her Curry. Mine he was confident in already. Mother reiterated that she liked the fact that the Lamb was cut Small. The Powerful Flavours were also to her liking. As She and Marg had not managed to complete their Man-sized Portions, a Doggy Bag was in order. Mother will no doubt have Two more Meals from what was left.
The Bill
£47.20. £3.45 for the Poppadoms and Pickle Tray, not in keeping with my philosophy.
The Aftermath
BBC!
A Midweek Curry is now scheduled – a Grand Opening – Hector is invited…