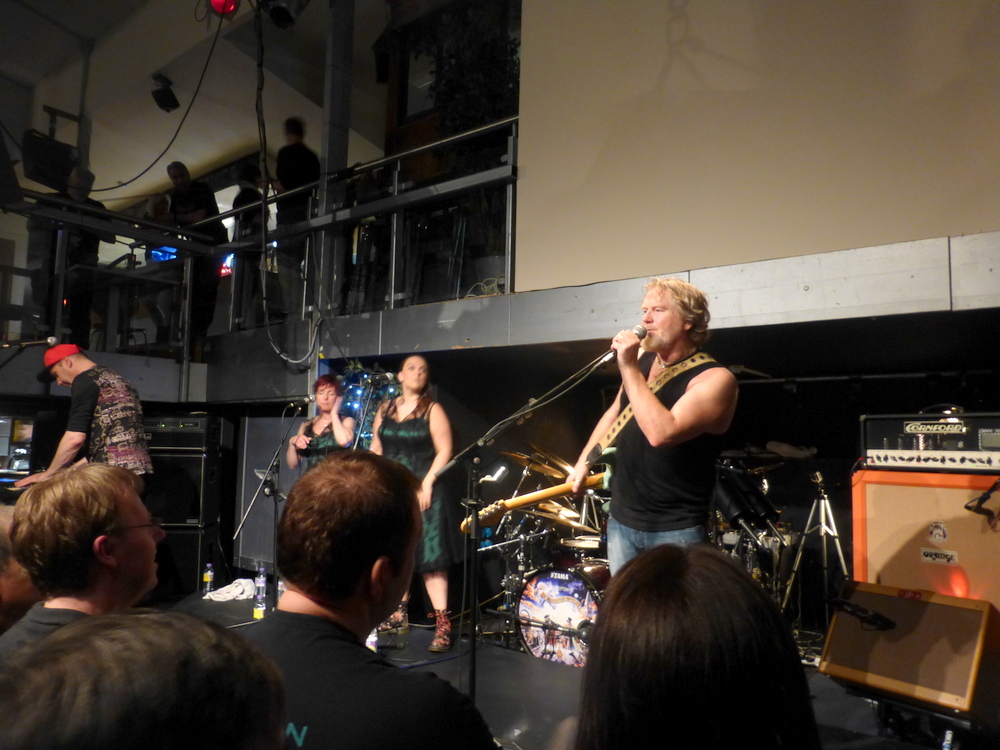 Eighteen months have passed since Hector and Marg saw Pendragon perform in both Katowice and Glasgow. How different was life then? Today Pendragon are back in Glasgow celebrating twenty years since the release of their Magnum Opus – The Masquerade Overture. Again, a different era, one had to go to Rotherham to see anyone decent.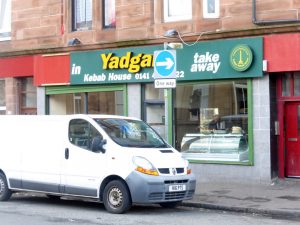 Peter summoned Hector to the Allison Arms this afternoon, he still thinks it's my Birthday. Marg was in Stirling for much of the day, hockey of course. We agreed to rendezvous at Yadgar Kebab House (148 Calder St, Govanhill, Glasgow, G42 7QP) at 18.00. Doors open at The Ferry at 20.00, after they have seduced people into dining there early, three Curry Houses are within a five minute walk of the venue, no chance.
Normally, the Karahi Gosht is ordered a few days in advance by contacting Shkoor, Mein Host. As the decision – to dine – was only made last night, I had to call in on my way to the Ally.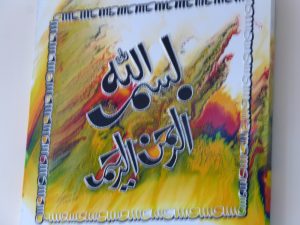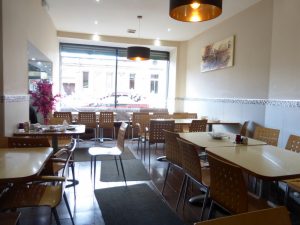 Omar took the order: One Portion Karahi Gosht on-the-bone, one Boneless Portion of Karahi Gosht and One Portion of Vegetable Rice. One should really be enjoying this Superb Creation with Chapatti Accompaniments, I would order one later, however, both Marg and I particularly enjoyed Vegetable Biryani on our Indian Trip, I felt the need to go overboard. There, India has been mentioned and shall be again, fear not.
The Bad Boys' Club numbered eight this afternoon, all the less Deutsche Bier for everyone else. Olaf must be due back soon, the selection was not wonderful.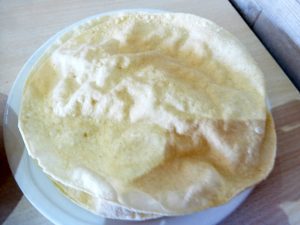 Marg was an acceptable ten minutes late. By this time Omar had sorted Poppadoms (x3), Spiced Onions and Dips. When I mentioned it was Marg who was coming, he even suggested Mango Chutney. A Modest Salad arrived soon afterwards, I say – Modest – no Black Olives or Pickled Chillies today.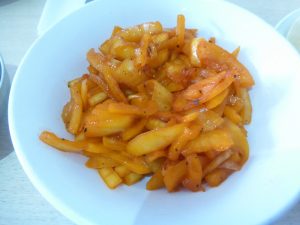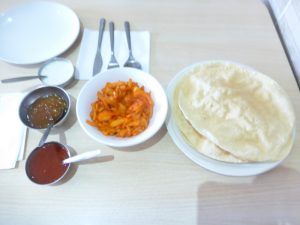 People were finishing as I arrived, the place emptied then more families started to arrive. There were smiles from everyone, we were here to enjoy Yadgar Cuisine. Having consulted the UK's most reliable Curry Blog, it is six months since I had the Karahi Gosht proper. In the interim I have had Lamb Chops Karahi, Lamb Chops Achari and even the so called – White/Salt Karahi – Namkeen Karahi. Such is the Richness of the Food served at Yadgar, I have even chosen from the Daily Specials in other visits. Today was all about a direct comparison with the Wonderful Karahi served at Dera (Manchester) on Thursday.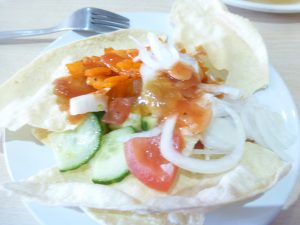 By the time we had settled on a Poppadom each, plus The Bits, the Mains were ready. Marg instantly observed that her Boneless Portion was Larger than Hector's. This remains the Great Curry Paradox: one generally pays more for on-the-bone yet knowingly, the debris will pile up. At Yadgar one does not worry about these matters, all will be well. I also knew that whatever Marg could not eat, would be spirited away afterwards.
Vegetable Biryani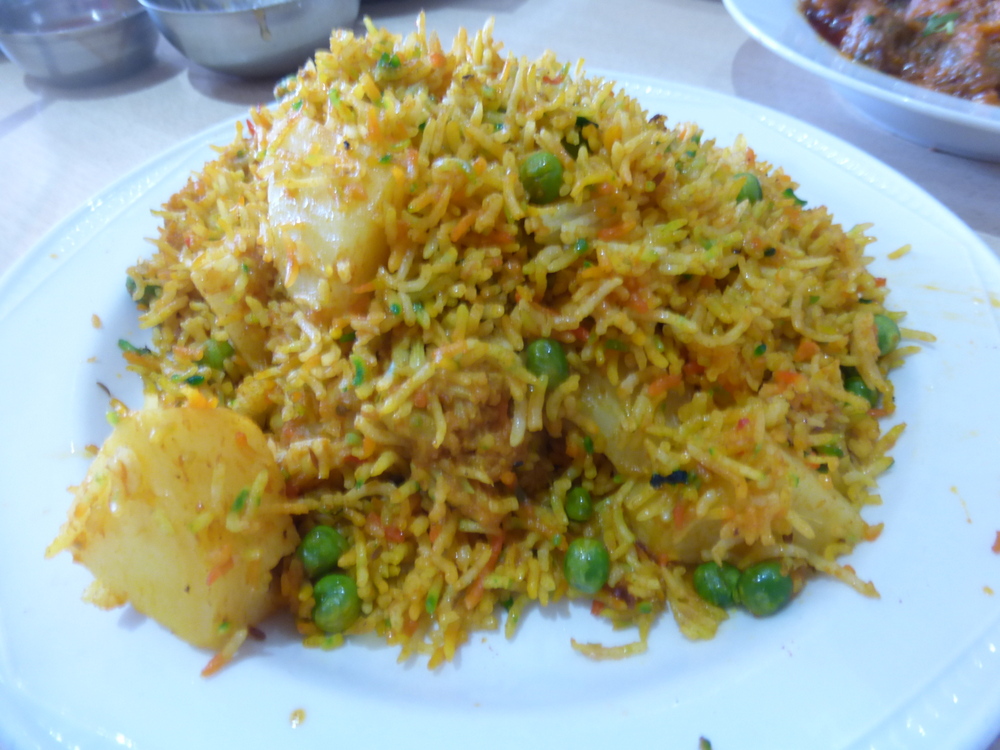 I have been ordering this as – Vegetable Rice – since my earliest encounters at Yadgar. With Large Pieces of Potato and Cauliflower then Peas, which have to be the size they are I suppose, a Meal in itself. Marg thought so, took little and concentrated on the Chapatti which was also Substantial.
Karahi Gosht on-the-bone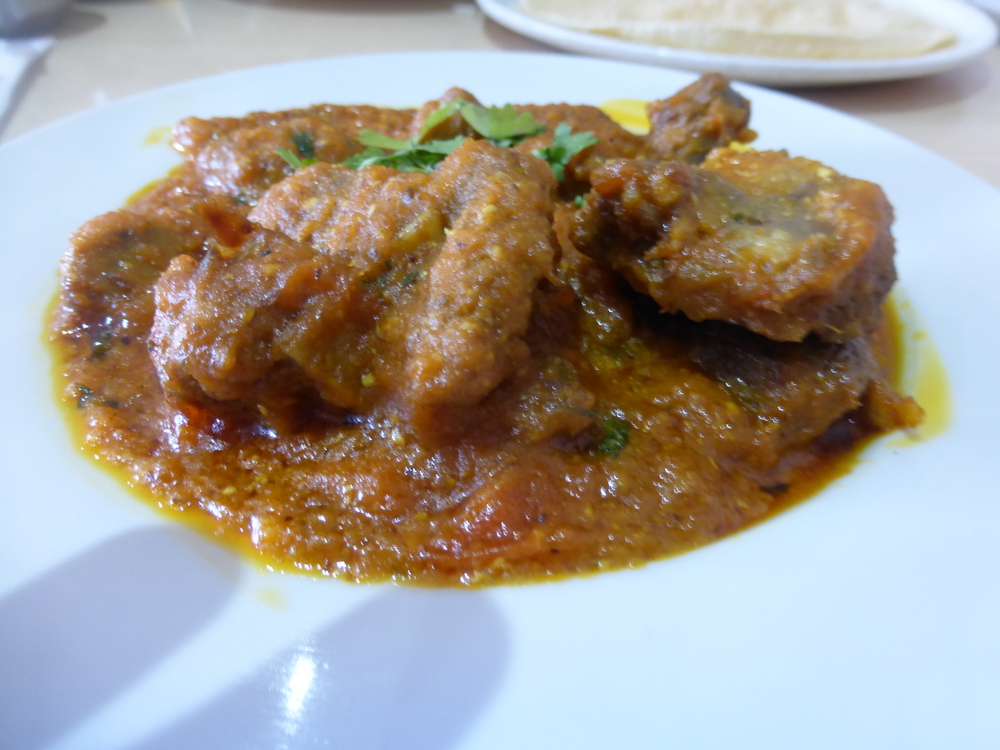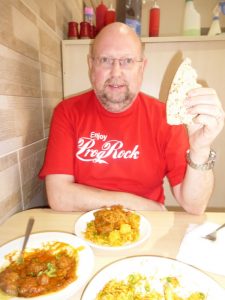 From the first intake of Lamb there was a Gasp of Pleasure. This is it, Yadgar Karahi Gosht. Visiting too often lessens the impact. The temptation is to return within the week. So, Rich, Smooth, Spiced at a Level not to cause upset, this could not be achieved without the Seasoning. The Health Officials finally admit there is no Life without Salt. The Potato and Cauliflower provided Diversity in Texture. The Rice still left on the plate would not be decanted, already the Simultaneous Equations were being calculated consciously in Hector's Brain. I can finish what I have, Marg may only get halfway through hers – Lunch! – tomorrow.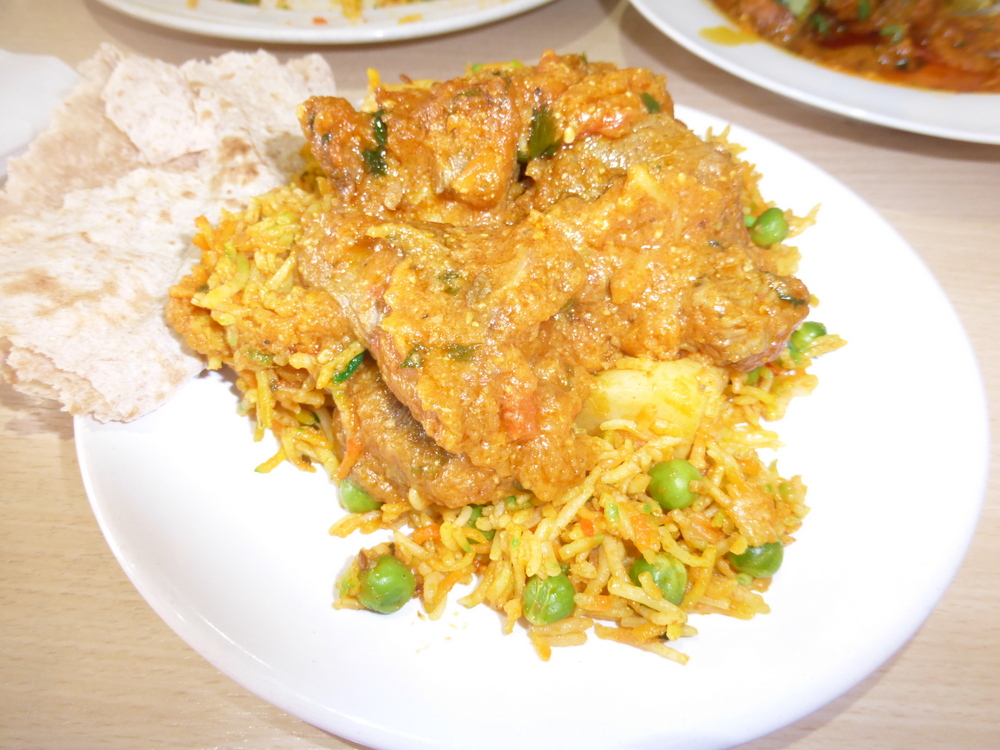 Karahi Gosht Boneless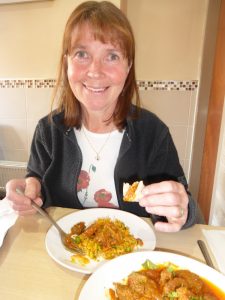 The Masala is the same, but will never pack the same punch as when Meat on-the-bone has been part of the cooking process. Marg found her Dish to be slightly too Spicy for her. She is perfectly capable of eating – Spicy Curry – but just likes to register her thoughts. Dehydration was her main concern as she summoned a second Mango Rubicon from Omar. Hector had to sample the Boneless version, not too different on this occasion, but a Significantly Different Portion Size. So it appeared.
Behold, Mein Host
Shkoor was surprised to see us tearing into Karahi Gosht. He asked why he had not been contacted to arrange the Food. This would have been in the small hours. Being our first encounter since India,  The India Trip had to be mentioned. The Frustration of Bland Buffets, the Splendid Restaurants, the Angst at Agra compared to the more laid back Jaipur. Shkoor said he has read my humble pages.  Manchester was also raised, Shkoor has been to Dera and knows their Karahi well. Curryspondent Ahmed flies in to Manchester from where he is fetched, Smart Chap. It was Ahmed who made me aware of Dera.
Yadgar v New Karahi Palace v Dera
Each sells an Outstanding Interpretation of Lamb Karahi. On the day, the Dish you are eating is The Best, there is little point stating otherwise. I have deliberately left Bradford Curry Houses out of this, they serve Outstanding Curry. As I said to Marg some time later – It's the Mainstream Venues that survive selling the Straightforward that I don't get.
The Bill
£20.00 was the most agreeable sum.
The Aftermath
Somehow, a Portion of Karela Gosht found its way into our Takeaway Bag. Shkoor said to Marg – You may know his heart, I know his stomach. Why do I always tell people that Yadgar is my Favourite Curry House?
The Next Bit
There is a New Pretender in Glasgow, possibly another Desi Curry Outlet that could rival those in Glasgow's Top Rated. We headed there, for Dessert.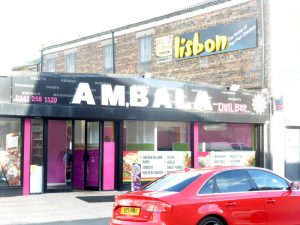 Ambala Deli Bar (11 Forth St., Glasgow, Scotland, G41 2SP) was only flagged up in recent months. After two visits I thought it was time to introduce Marg to the venue. A Sundae is what I had planned – to share. The Waiter whom I have met twice now greeted us on entry. Introductions were made, I admitted we were not here for Curry.
Following the instruction on the Menu with which I am now familiar, I went up to the counter to order. Another Chap, Head Waiter?, said that being a hot day they had sold out on the necessary ingredients, Ice Cream was still available. Who is The Chap in the suit?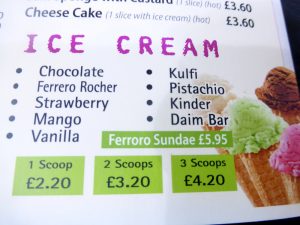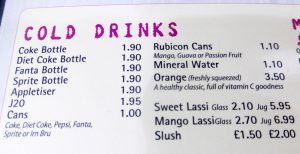 Marg was consulted, Three Scoops (£4.20) were selected, Marg's choice. Daim Bar?
We had a mass of Ice Cream and two spoons, plus a Sprite each. Dehydration was now relieved.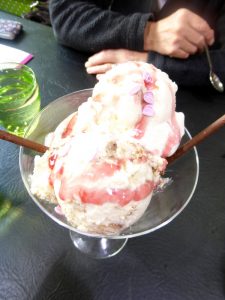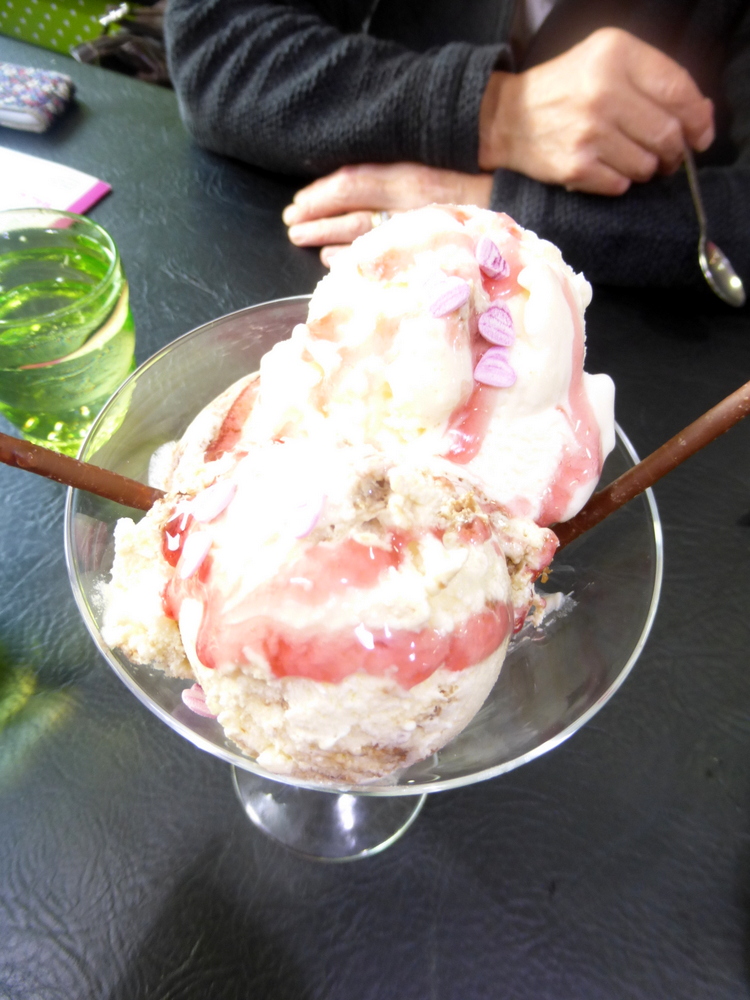 Something was – Spongy – so a bit distracting, else it was Ice Cream. We need to come back on a Rainy Sunday.
The Bill
£8.00. Think back to the 1960s. If someone had said that three scoops of Ice Cream and two Lemonades would cost this…
And now Everyone to The Stage
Simon and Jan were parked in the same street adjacent to The Ferry. There is always a familiar face at a Pendragon Concert, even in Leamington Spa. A couple of minutes before 20.00, the doors were open. I have previously seen queues with people arriving this punctually, a good sign.
The place was remarkably empty, was that Joe from Comedy of Errors at a table? If he's dining I shall leave him alone. Was there a Support? I asked the Barmen, they knew nothing. As time passed I became convinced that there could be no Support, given the curfew at The Ferry.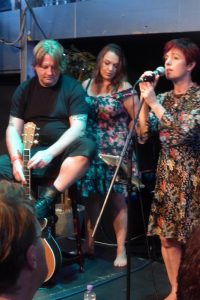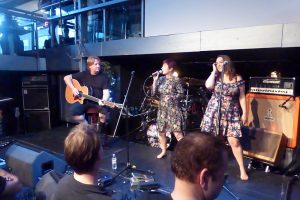 Approaching 20.45, two Ladies and a Chap took to the stage. Christina Booth of Magenta was accompanied by Mark Westwood and Verity Smith.
At the time of writing I can reveal that I have one Magenta CD – Seven – which has hardly been played. In Marg's car is – She – by Caamora – a Musical composed by Clive Nolan (Arena, Pendragon), Christina Booth features on this as does Mark Westwood (Shadowland), Alan Reed (ex-Pallas) and John Jowitt (ex-Arena, ex-IQ), and Scott Higham (ex-Pendragon). This must be where you end up after leaving Hector's Favourite Bands. I have to admit to enjoying – She – as a Concept Album, setting aside the associated theatrics featured on Youtube, great on a long drive. I shall admit to once having a conversation with Mark Westwood on a well known Social Medium thinking he was Mark Westworth (ex-IQ, ex-Grey Lady Down). The Shadowland CD I have pre-dates his arrival…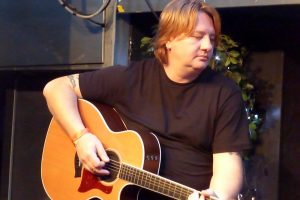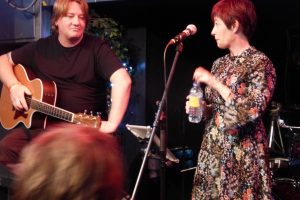 Anyway, Christina and Verity Smith (Caamora) sang some unknown songs, Karaoke-style in terms of Keyboards and Percussion, with Mark adding live Acoustic Guitar. All very pleasant, but what about The Ferry Curfew? The Mob who were following Pendragon throughout the Tour, were well involved with the Artists on stage, at times to the detriment of the rest of us.
The Masquerade Overture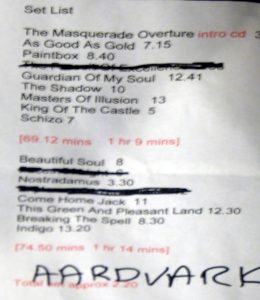 Before Pendragon took to the stage I was able to make a copy of the Set-list. A track from the album scored out? The Two Ladies accompanied for backing vocals, yet the opening Eponymous Track – with its Operatic leanings was still played as a recording. As Good as Gold kicked things off, by the end Nick Barrrett, Guitar and Composer, again looked gob-smacked at the warmth coming from the Glasgow audience, and The Mob of about six.
As Paintbox continued it was evident that the audience surrounding the Quiet Hector were going to sing along. Well. Hector has adopted the same pose at Gigs for decades, arms folded, little sign of emotion, and I do not clap until the end of the Gig. Clive Nolan on Keyboards maintained a similar passive demeanour throughout the Gig too.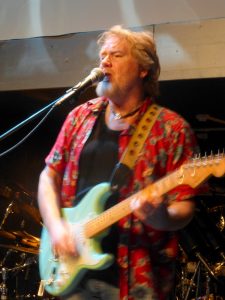 Before Guardian of My Soul, Nick admitted to having the flu. Man up – someone reportedly said to him last night at Wath (near Rotherham). The Shadow was followed by the bouncy- Masters of Illusion. This and the next song – King of the Castle – remind me of Terje Rypdal, just how high up the fretboard can one play? The Operatic skills of Verity Smith will provide the standout memory. This album has a lot of Female Vocalist backing in the studio recording, Tracy Hitchings (Landmarq) now in Australia, has been a long time favourite. To recreate the full vocal impact this evening was much appreciated. That was The Masquerade Overture, or was it? Schizo? Never heard of it. I have since found it on Masquerade Overture Disk 2, which I may have played once, so it goes.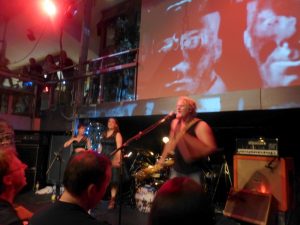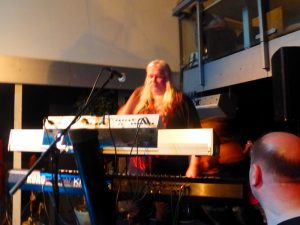 Instead of an Interval, there was a legendary piece of Nick Nostalgia.- The Heathery Bar, Wishaw, where Hector first saw Pallas back in the early 1980s. This is going way back.
The most recent Pendragon studio CD is Men Who Climb Mountains, not their best. After the Magnificent – Pure, and the almost as Perfect – Passion, Men Who Climb Mountains was quite a let-down. Still, there are some great tracks, with Pendragon one expects them all to be great. Three songs from this album would feature in the latter part of the set.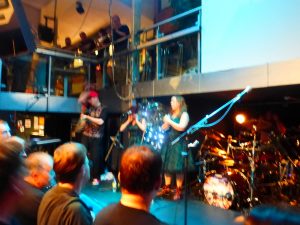 Beautiful Soul was the first, this works well on stage followed by the compulsory Nostradamus aka Stargazing (The Window of Life) had everyone jumping again, except The Hector of course. Back down to earth with Come Home Jack (Men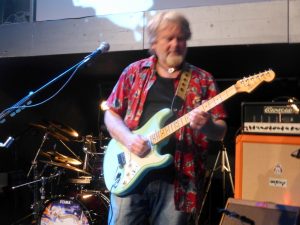 Who Climb Mountains) and then the track from Passion which took this commentator by surprise in early hearings. Green and Pleasant Land (Passion) is an Epic, the Choir was in full force once again.
Breaking the Spell (Window of Life) is just simply one of the Best Guitar Compositions, ever. With the short Vocal intro, it then Rocks, develops and more. A showstopper at any Gig and a natural conclusion to the Set this evening.
It was now well after 23.30, late for The Ferry. The Set-list showed Indigo (Pure), IMHO the greatest Nick Barrett song composition. Everyone would have left happy after this Aural Feast. It was the last night of the tour, there was more. Somehow Nick still had the voice to tackle The Pursuit of Excellence (Masquerade Overture) which had been missed from the album sequence earlier. Finally, and by now it is after midnight, Faces of Light (Men Who Climb Mountains) which proved there are two songs at least worth playing Live from this album.
Simon, a professional photographer, posted the photo of the crowd, spot Hector and Marg. My own photos suffered from the etiquette of not using Flash. Phones are now proving to be the better Medium from which to take photos currently unless one brings the SLR to a Gig.
That's Pendragon for 2016. A new album, all things being equal, should appear in 2017. A reason to visit Katowice and drink some Piwa with Robert?