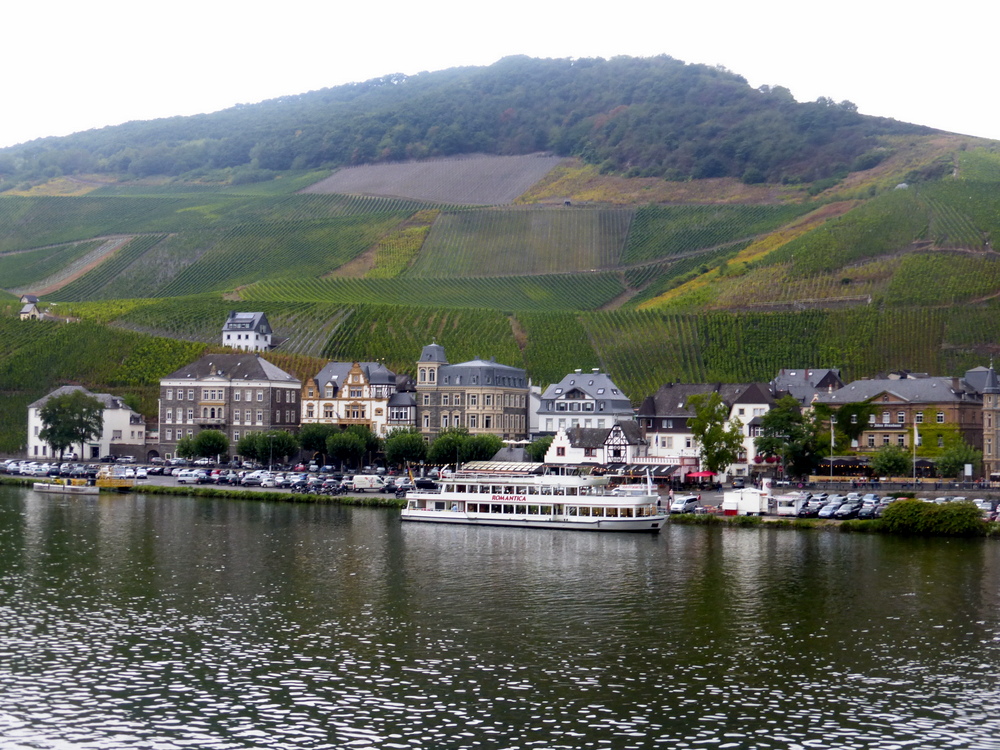 One looks forward to this weekend every year, the – Wolf Strassenfest. Hector consumes Wine at this Village Festival on the Mosel. With all the time in the World to get home, the days of the Sunday Flights have gone, instead for the second consecutive year, a Boat Trip from Traben-Trarbach to Bernkastel-Kues was the order of the day.
Bernkastel has a Curry Haus, the nearest one to Traben-Trarbach, our place of residence. Frank has given up the Altstadt Cafe, which is now re-branded as – Chez Mathieu – and run by Roman and Mathieu. Big Changes.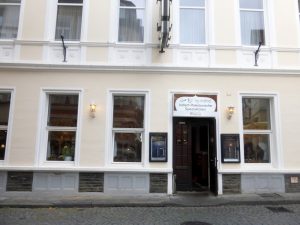 Hector, Jonathan, Mags, and Dr. Stan alighted from the Boat at Bernkastel just after 13.00. After a quick look at the sights it was time for Lunch at the Taj Mahal (Hebegasse 1, 54470 Bernkastel-Kues, Deutschland). There was a problem, Hector's appetite was Zero, a combination of a Bug not fully shaken off and the overindulgences of the last few days. For months Jonathan and Hector have looked forward to the Tandoori Mix (€16.50) which impressed so much last year. In effect, The Hector never planned to have Curry-Heute, Fish Pakora Amritsari (€4.50) was not what I had in mind. I should be able to force down a Starter.
Mags had spotted her Favourite – Aloo Gosht – on the Mittagsmenü outside, today being Sunday, this was not on the a la carte. She could have asked, what is the point of a la carte if one cannot have what one truly seeks? Karahi Gosht (€13.00) was therefore her choice. Dr. Stan considered this but kept up his – I'll order something different. I advised him against the too Creamy – Palak Gosht – he went for Bhuna Gosht (€12.50).
Inclusive Rice is the Norm in Deutschland, at the Taj Mahal, Naan comes too. Hector has struggled here in the past with the Sheer Quantity.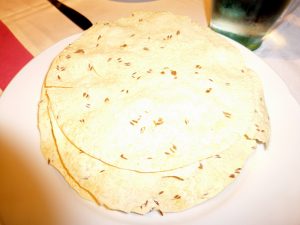 Complimentary Poppadoms and Dips were provided for four, event though only three had ordered Main Courses. The Waiter talked us through The Bits, the Mixed Pickle came with a warning – Scharf. The Poppadoms were rich in Cumin Seeds which is the European Standard, and always welcome. The Waiter had asked us if we had a Reservation on entry. Why do Indians always ask about Reservations? It could be a necessity in the summer. Even today we had twenty two Fellow Diners, the busiest I have ever seen the Taj Mahal which has improved markedly over the years.
Steve, who had hired a bicycle for the day, joined us briefly. He too was not in the mood for Curry. A rare occurrence.
Always keen to see what other diners have ordered, I spotted a Mix Vegetables identical to the style served in India. A Lady next to me had a Magnificent looking Vegetable Biryani. This meant Hector was passing on three meals today which would have satisfied. Maybe next year I will have to come back on the Friday before the Wolf Fest as I managed two years ago when a very nice man let me have the day off. Friday Curry – The Curry we had in Koblenz on Friday this year was Poor, Seriously Poor.
Fish Pakora Amritsari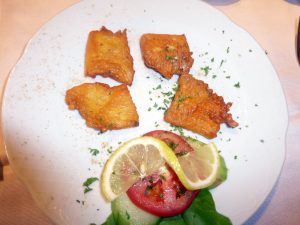 Four flat pieces of Fish stared up from the plate accompanied by a Garnish which would remain untouched. This was an Appropriate Portion, though one cannot help compare this Portion with that given on my first visit here. Then, the Fish was certainly Chunkier. The Fish appeared to have been cooked in a Simple Batter rather than Gram Flour based one. The Spice Level was Minimal. The Creation was very Moist which certainly aided digestion. Hector had no complaints, this suited the day, and having been presented when the Others had their Mains, timeous.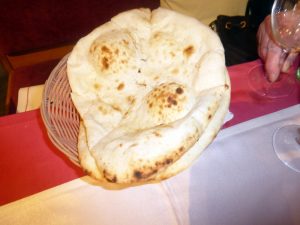 Karahi Gosht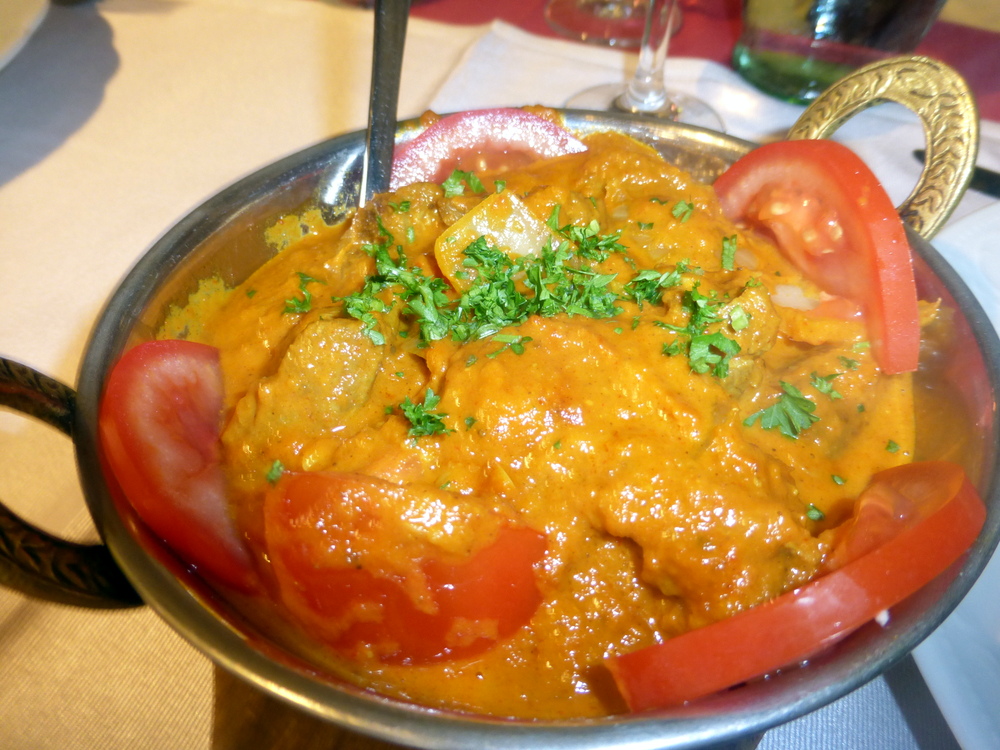 One always worries, this Dish can be Horrendous in Europe, and in many UK venues for that matter.  This was the first Dish I had in these premises six years ago, it was decidedly Poor back then. Today's interpretation had a Puréed, Thin Masala which evidently had some Creaminess to it. It was not Shorva, thankfully. Large pieces of Onion and Slices of Tomato had been added as the Customary, and Unwelcome, Bulk. I have seen a lot worse, I have had a lot worse.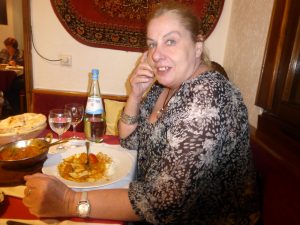 Mags started slowly but warmed to what lay before her. The Naan proved to be too much for Mags who had taken her share of the Sensible Portion of Accompanying Rice.
The Lamb is cooked well – was her first remark. Dr. Stan agreed.
Yeah.
At the end Mags had cleared her plate – That was quite pleasant.
Bhuna Gosht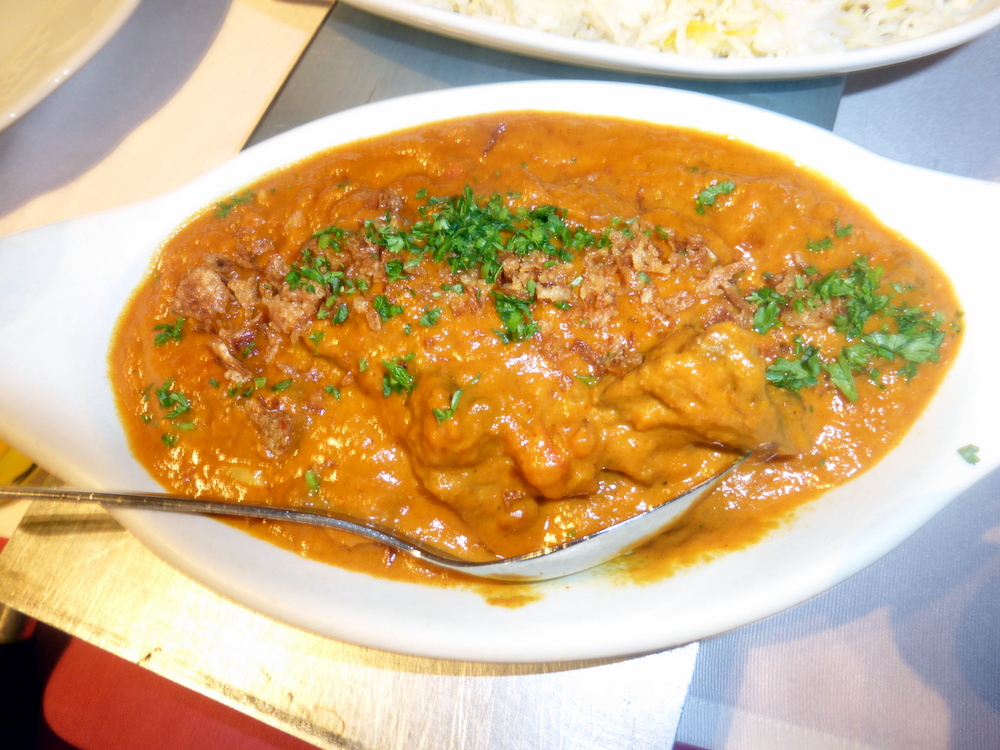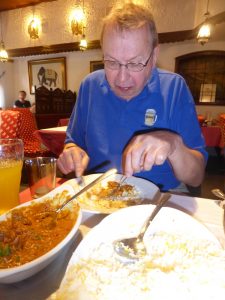 I had put it to Dr. Stan that his Masala did not appear to be too different to that in the Karahi, he agreed. Neither of use were sure why this was a – Bhuna.
A bit creamier than I expected – was Dr. Stan's minimalist verdict. He had enjoyed his first visit to the Taj Mahal.
*
*
Mix Tandoori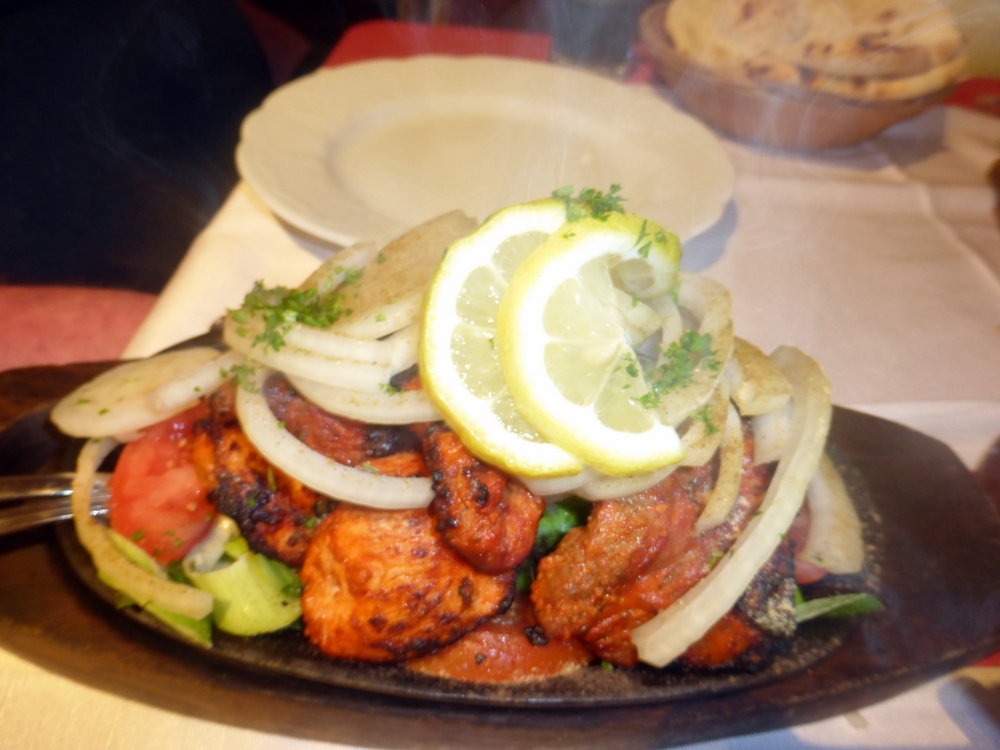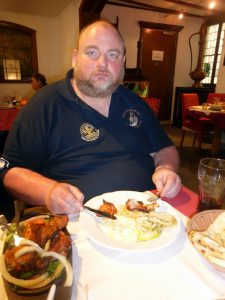 This is one of the most Joyous Spectacles ever encountered. Piled High, no Higher, on a Sizzling Metal Platter came Chicken, Lamb and Prawns topped with Lemon and Onion and even more Onion and Tomato beneath the Meat. Not Curry, but Stunning Indian Cuisine.
A bit off-putting – was Jonathan's only negative when he drew our attention to a Bright Green piece of Chicken. Whatever combination of Herb and Food Colouring had been employed it did not prevent Total Enjoyment.
A fair bit of meat here – was an ongoing contribution. Needless to say, The Hector wished his appetite had been up for the job.
The Bill
One does not ask, one approaches the desk in the adjacent room. We paid individually. €7.50 for Hector who had a Fanta with the Fish Pakora.
The Aftermath
We found Steve across the Mosel at Cues Bahnhof, a micro-brewery. Alan and Tracy eventually arrived on another Boot, too late for Curry-Heute.