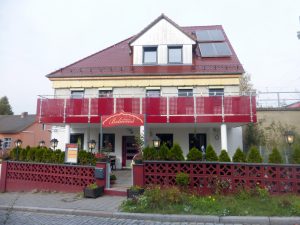 Today is Tapping of The Bock at Löwenbräu Buttenheim, as good a reason as any to be in Deutschland. However this Blog as ever concentrates on the Lunch before the other distraction.
Erlangen has puzzled for years, why so many Curry Houses in a town of this size? The answer – The University.
On arrival in Nürnberg last night I had considered jumping on a train for the fifteen minute journey north to Erlangen. House of India is the last of six venues to be visited. A Source has it down as – Good for Lunch – which is a mystery as the Restaurant does not open until 17.30. Just in case, I checked it out again today, not only was Lunch a Myth, the Restaurant is shut for a week.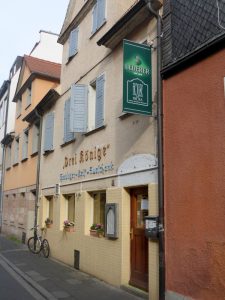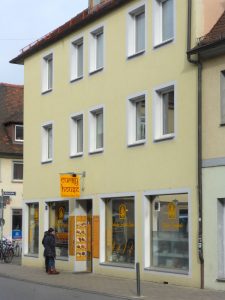 Around two hundred people alighted from my chosen train to Erlangen, was everyone coming for Curry? The Curry House which is metres from the Bahnhof continues to do well, perhaps I may squeeze in Lunch on Wednesday on my way home. Today's choice of venue was Boliwood (Gerberei 8 91054 Erlangen, Bayern, Deutschland) a Restaurant which impressed last year when Mein Host and his Lady Chef were prepared to listen, an impressive Fish Karahi with Vegetables was produced specially for The Hector.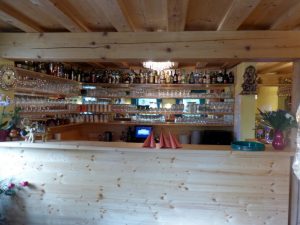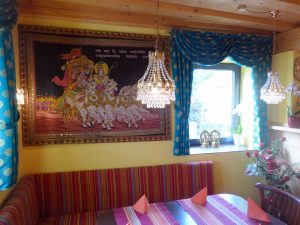 About a dozen diners were in situ when I entered Boliwood at 12.45. I was shown to a table in the room at the Bar. Another ten people would arrive during my hour at Boliwood. On taking my seat I showed Mein Host the Replacement Samsung, he remembered me.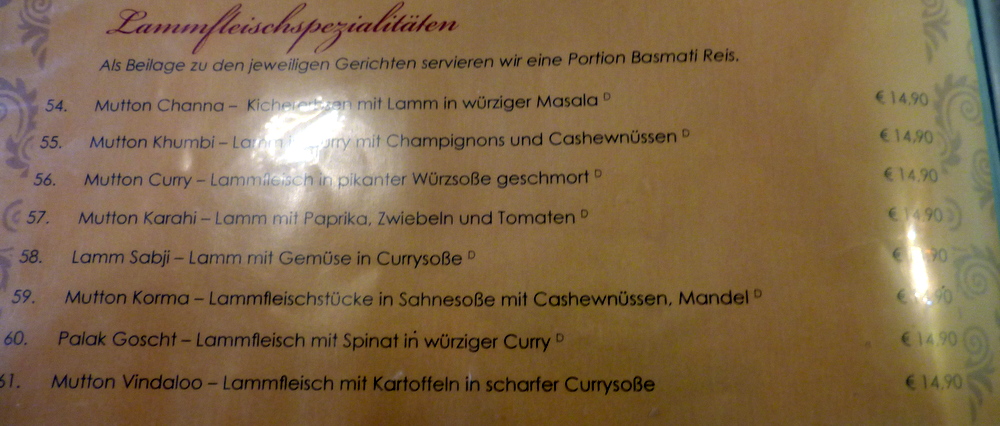 The Mittagsmenu replicated the a la Carte, however, I was later able to confirm Smaller Portions. Lamm Sabji (€14.90) – Lamm mit Gemüse in Currysosse. Medium – was suggested. Hotter than Medium? Levels were offered, two as Standard, I opted for three. Four exists, taking my mind back to Gdynia where Level 4 was describes as – Insane.
Having taken the order, Mein Host returned – You had Fish with Vegetables last time. This reminded me – Kein Paprika. He immediately went to the kitchen, sorted.
On The House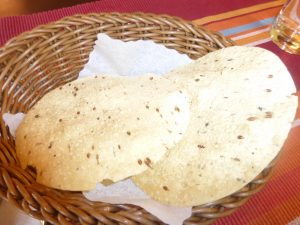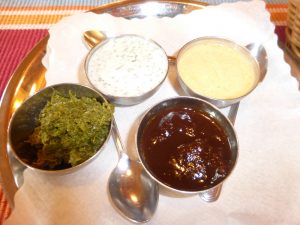 Two Small Poppadoms and Four Dips were brought.
This is from home for you.
I had only finished the first Cumin-laden Poppadom when the Lamm Sabji arrived. Firstly I had to deal with the inclusive Basmati, again enough for two. Spooning the Curry on to the Rice revealed the Largest array of Interesting Vegetables ever encountered: Carrots, Cauliflower, Courgettes, three types of Bean, Aubergine, Broccoli, and Ginger Strips. Mixed into this were six pieces of Lamb, this was a Mountain of Curry.
The Masala was the Standard Indian Puree, as the Oil collected at the sides of the Platter, so the efficacy of the Dish was confirmed. This was Curry, and some.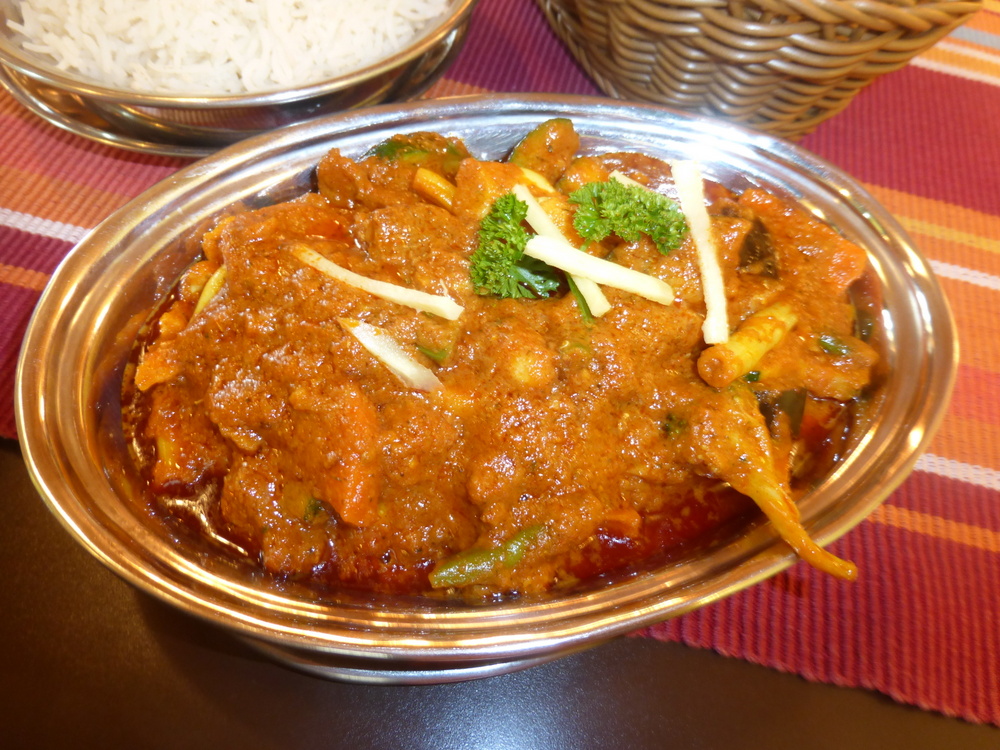 Level 3
It is rare in Europe for Indian Restaurants to serve Seriously Spiced Curry, there was no holding back here. Level 3 is eye-watering Hot. One has to accept that when Curry is this Spicy, Flavour is lost. More Seasoning would have been welcome which is quite ironic in Erlangen. The Minimal Lamb was suitably Tender, however, this Dish was all about the Vegetables. There was an acceptable Firmness to the Carrots and Courgettes, better this than a Plate of Pulp.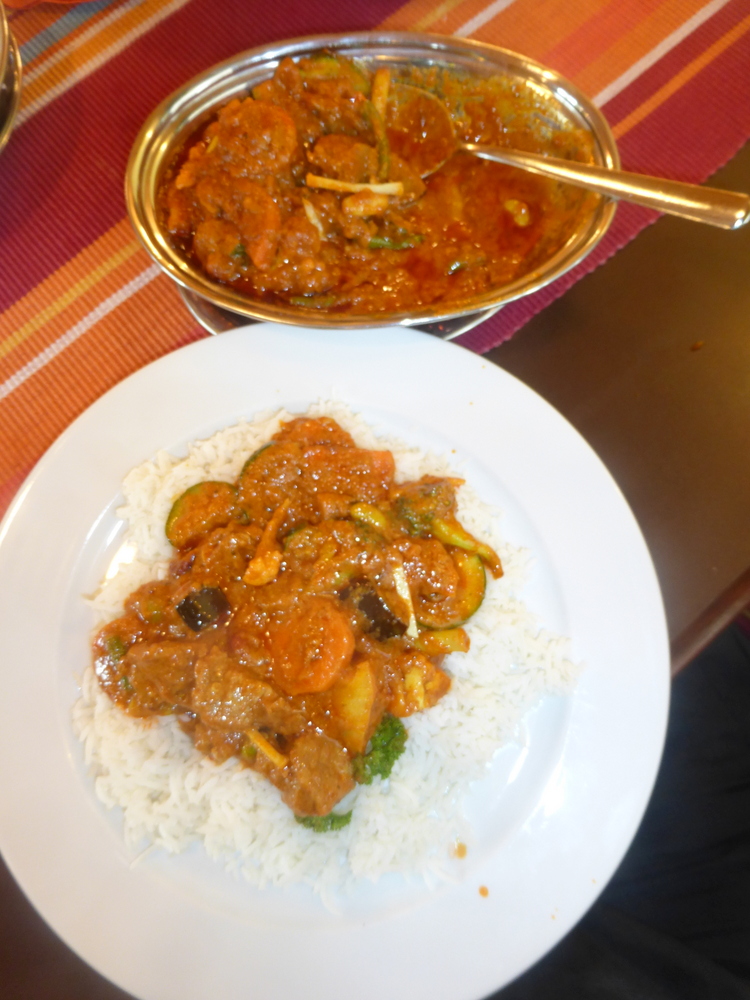 The Quantity was such that defeat was inevitable. On seeing the Lunchtime Menu Portions, I was still happy to have ordered from the Main Menu.
Alles war Gut?
Zehr Gross.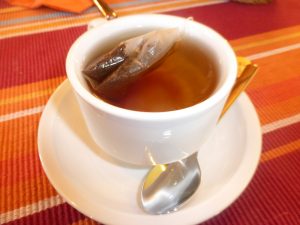 Tea Time
Tea was offered and accepted. Schwarz, kein Milch. I don't think this is what Mein Host had in mind, Hector cannot drink Tea with Milk.
Darjeeling – was declared on presentation.
Hot Tea after Curry, a Masochistic Treat I realised in my formative years of Curry Eating. The Palate was cleansed.
The Bill
€17.90. (£15.98) Mein Host reconfirmed that the Poppadoms and Tea were – from the house.
The Aftermath
Until next year – was going through Hector's mind. Mein Host beat me to it.
And so to Buttenheim.