Hector finds himself in Crete, alone. Marg decided after I took advantage of mid June cheaper flights and accommodation, that a Vets Hockey Tournament in Dublin took priority. So it goes.
Still, Hector is currently in a happy place, Curryspondent Dr. Ed informed me yesterday that The (Glasgow) Herald had mentioned – Curry-Heute – in the – Eating Out and Drink – section of last Saturday's magazine. Mr. Baig at – The Village – had suggested that The Herald was long overdue a visit to one of Glasgow's finest Curry Houses, the Ramadan Buffet had to be witnessed by The Press. Hector duly contacted Ron Mackenna of The Herald, the email was acknowledged, however, without Dr. Ed's contribution to the proceedings, I would have been none the wiser.
Arriving last night in Chania, it was straight out for Stifado, what a disappointment, in daylight I may have found better sources. I have since learned to look for Rabbit Stifado, tomorrow.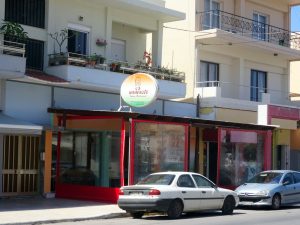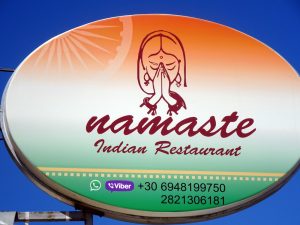 Surfacing this afternoon, the plan was to have Curry-Heute around my usual time. I headed up the street to Namaste Indian Restaurant (Kissamou 186, Chania 731 00, Crete, Hellas), it's amazing how my chosen hotel managed to be on the same street. At 15.30 the doors were closed, though I was beckoned in. Sources had suggested they are open all day, this is clarified later in this Blog.
Mein Host informed me that they opened at 18.00, his presence suggesting a Lunchtime Session had passed. Two Diners were in situ, however. I headed off to see Chania in daylight for the first time since 1998 when I was here briefly and spotted a Curry House near the Venetian Harbour; no more.
Something Cold, Yellow and Fizzy meant that it was 20.00 when I finally returned. Two Diners were sitting outside, Samosas were brought to them as I passed by. Inside was empty, inside is where I prefer to be in Greece. Yet, why can they not adhere to their own – Smoking Ban?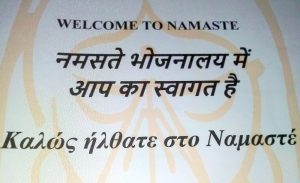 The Menu was brought, presumably by the Wife of Mein Host.
Welcome to Namaste – it says on the opening page.

Some may appreciate the tautology.
The Menu had a practical length, there were only two Lamb Dishes: Mutton Punjabi (€13.50) and Mutton Jalfrazi (€12.00). I opened up the page on Curry-Heute showing – The Curry-Heute Campaign. I was determined to avoid the dreaded Capsicum. I was assured that no Capsicum would appear in the Mutton Punjabi, and so it would be.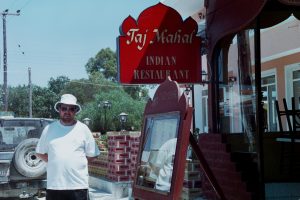 Punjabi Cuisine in Crete? This raised my expectations, Pak Taka Tak in Athena serve a Karahi as good as – anywhere – that serves it properly in the UK. My first Greek Island Curry was at the Taj Mahal,  Zakynthos with Marg in July 2001. It was shocking, so bad I offered to return the next day and show them how to make Curry. Arrogant, moi?
The Lady asked about – Spice level. I gestured for something – Above Medium. She then took me by surprises and asked:
Indian style or European?
I replied using – Desi – and – Apna – though neither term registered. Indian-style was agreed. Expectations were raised further.
Jeera Pulao (€3.50) and a 1.5l Bottle of Still Water (€1.50) completed the Order. Sparkling Water was €1.80 for 330ml, in this heat that would be a waste of money.
The Mains for the Outside Diners were taken around ten minutes after my arrival, my wait was a further ten, encouraging. The Mutton Punjabi should not just be scooped out of – The Curry Pot.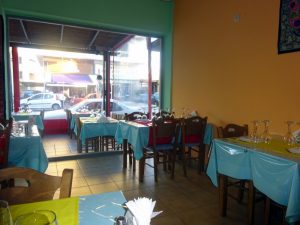 I wondered if Namaste ever gets busy? The inside Dining area is substantial, the winter months. The conservatory-like area on the pavement sits half as many again. The Lady, spotting me amusing myself on the so-far-reliable LG, offered Wi-Fi. It is June 2017, who needs Wi-Fi in Europe if you have a sensible Data Plan?
The Lady brought the Curry and Rice on a tray, the Aroma hit, possibly the Cumin in the Rice, or was it the Mutton Punjabi?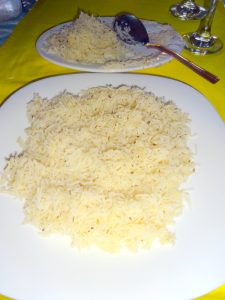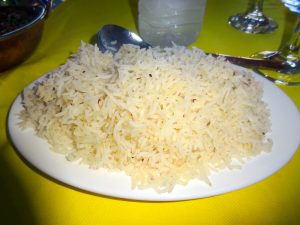 The Rice Portion was – Generous – not that I would eat it all, but there would be minimal waste.  This was Breakfast, I was hungry.  The Sun was setting, Ramadan is easier here.

Mutton Punjabi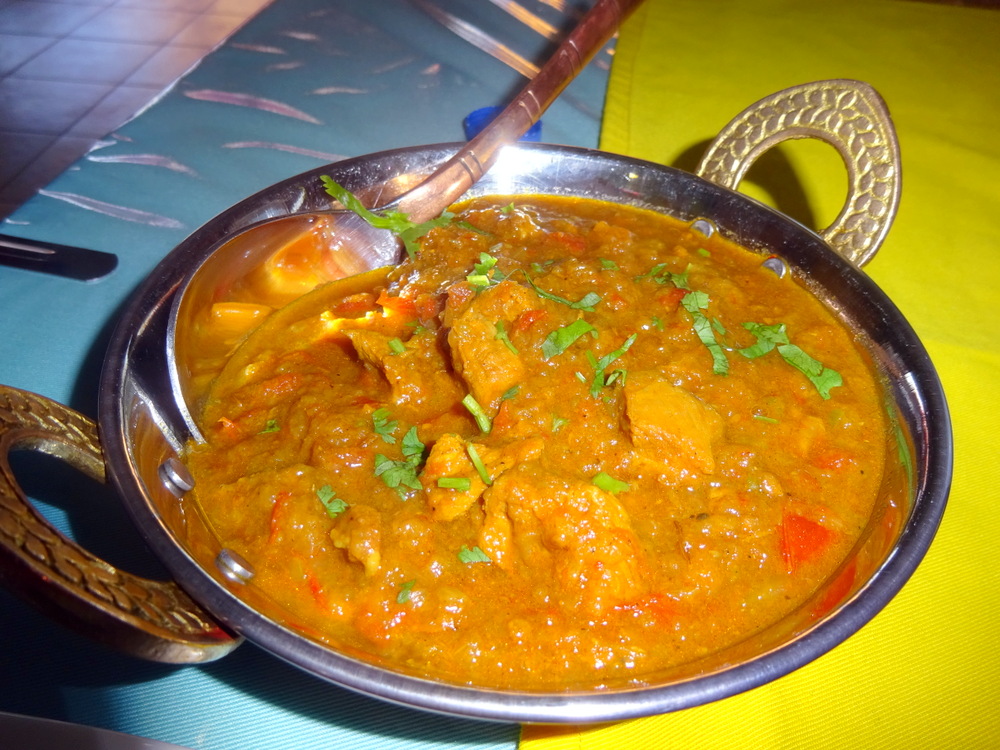 At first glimpse I saw a Thick Masala, then I noticed a Watery Residue. Far from being Soup, when spooned over the Rice, the Watery Masala disappeared into the Rice. In the UK this could well have been Oil. I had noted that Curry is cooked in Olive Oil, though Frying is done in Vegetable Oil.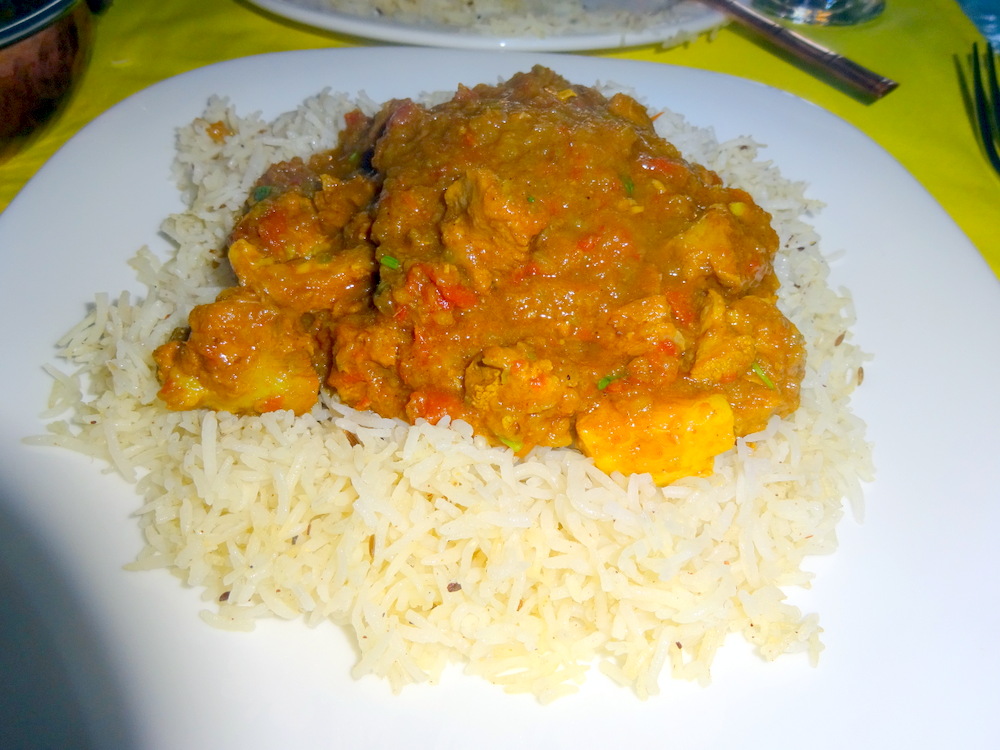 The Meat was plentiful and cut almost Bradford-small. Sufficiently Tender, it did not give the feeling that it had just met the Masala. Things were now looking good, though the first mouthful was taken with trepidation. The – Horribleness – that was encountered in Delhi 6 (Berlin) is still very much in the memory.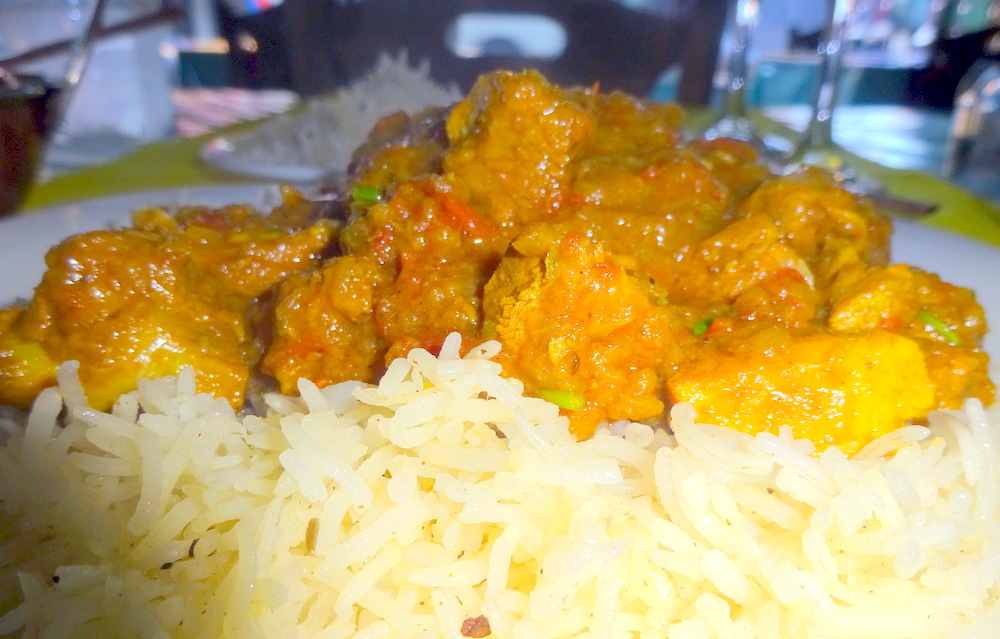 All was well here. There was a Kick, a Decent Kick. The Seasoning was Perfect, the boxes were being ticked. Now it was up to the Masala to work its wonders. The Masala was Rich in Fresh Tomato, I studied it closely to see if this was purely a Tomato-based Punjabi Masala, then became convinced I could see the results of Blended Onion. Whatever, time to stop analysing and enjoy. With the Cumin Seeds providing an Aromatic Flavour that complemented the Masala, this was a most enjoyable Mainstream Curry, worthy of The Hector.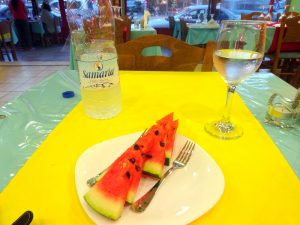 When the Lady came to clear the table I gave her the Calling Card, she looked, listened, then called Mein Host. We then spoke for about ten minutes. The Curry Heute Website was shown, my travels outlined and my purpose.
Do I pay you something? – he asked.
No, this is my Hobby.
Mein Host went on to describe how they use only Fresh Ingredients, local Mutton, not Imported Frozen. He judges his success by the fact that people come back, even Tourists on a single vacation. I asked about the Masala, he initially looked puzzled, as if why would you cook without Onions, but accepted that some Punjabi Chefs are able to create Wonderful Masala using Tomatoes alone (cf Yadgar and Karahi Palace – Glasgow). He assured me that when he makes the Mutton Punjabi, he has to strictly follow his own Recipe.
He explained the opening times. The two Diners I had seen this afternoon had entered as I had done. When given the same information, they stated they had a flight this evening. And so they were fed.
Back on Curry-Heute, I showed my only Greek Blogs to date, all Athena. He spotted Pak Taka Tak, I described how this is no more than a Workers' Cafe, but the Karahi is Excellent. He then appreciated the numbers beside each entry, acknowledging that when people come to Namaste for the third time, he knows they are truly enjoying the Curry.
The nearest Curry House to Namaste is 10km away, once upon a time I could have run this, no more. That is my next challenge, all being well, I shall return to Namaste on Sunday, the Mutton Jalfrazi is calling.
The Bill
€18.50 (£16.23) Dearer than I would pay at home, but all thanks to Brexit Voters who killed Sterling.
The Aftermath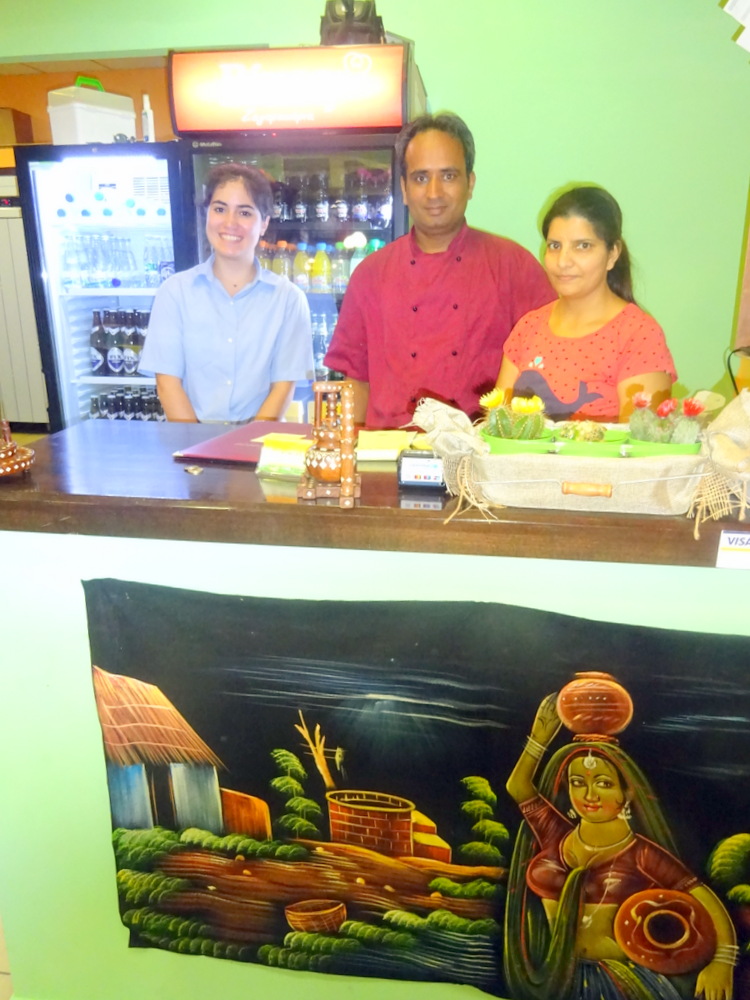 The Family were happy to pose for the ritual photo, then I was invited into the Kitchen. I did not see – The Curry Pot.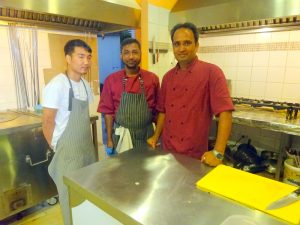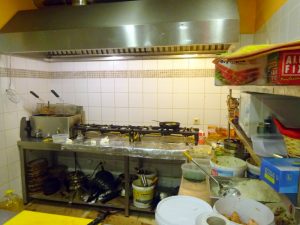 And so back down to the Harbour, Septem awaited.