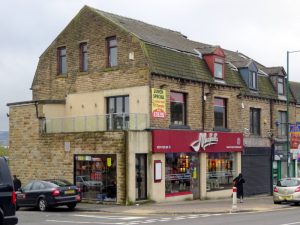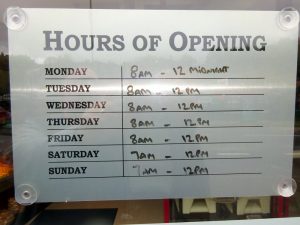 This morning sees the second of three meetings for Curry Brunch on this Trip. Mughals (790 – 792 Leeds Road, Bradford, BD3 9TY) served Hector a simple Punjabi Breakfast here four years ago. I have been back since hoping for full on Curry around Noon, but was declined. Today we arrived just before Noon with Hector confident that Breakfast would still be served.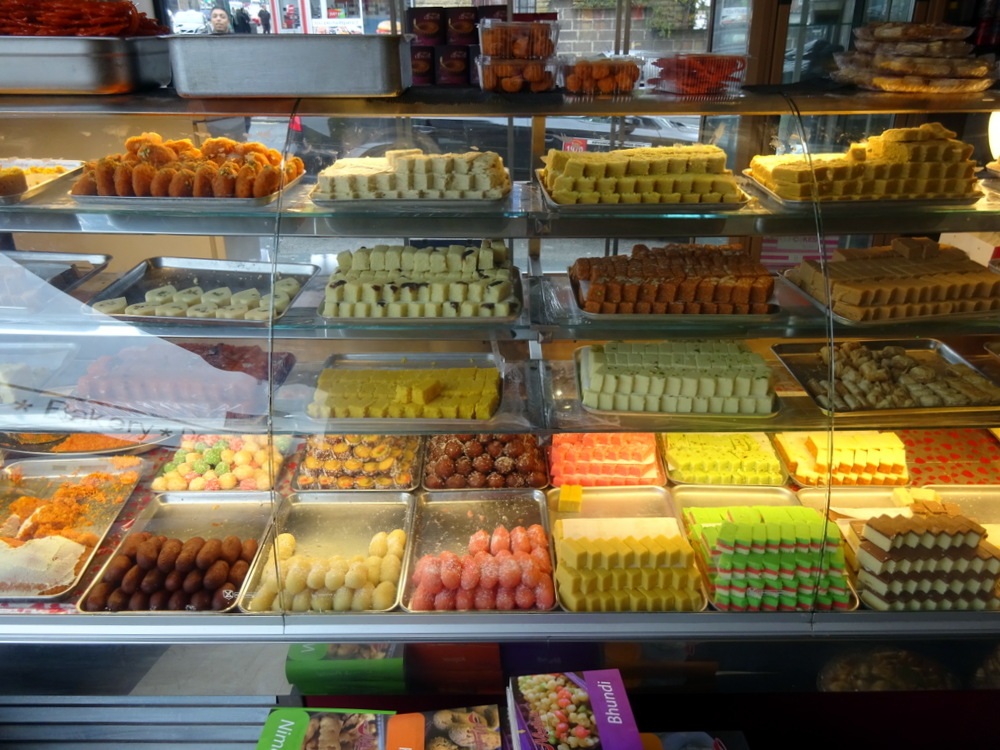 The array of Sweets at the counter caught the eye on entry. Breakfast was confirmed, we were the only Diners initially. A Young Chap brought the Rise & Shine Menu.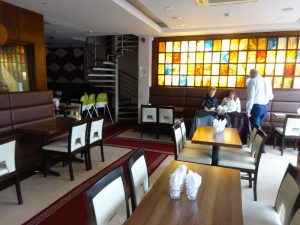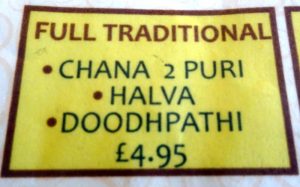 The Full Traditional (£4.95) had to be sampled.  On my last visit I was given the Chana and Puri only and charged a very modest £3.00. I do not like the Halva served in the Middle East, it looks like Fudge but the Texture is wrong. On being told that the Milk would already be in the Doodpathi, this was declined. Tea, Earl Grey, Hot – could have been fine a la Captain Picard, but not with Yorkshire Water. I was offered Coffee as a replacement, but even this has lost its general appeal presently.
Dr. Alasdair went for a Desi Omellette (£2.25) with Saag Sarsoo (£2.50), the latter being a Paratha. The Ladies both opted for Desi Omellette with Toast (£2.75). Three Coffees (£2.25) completed the Order. I wondered how we would be charged given that my Full Traditional included a Tea at least.
Full Traditional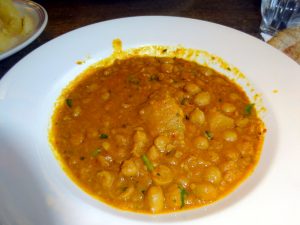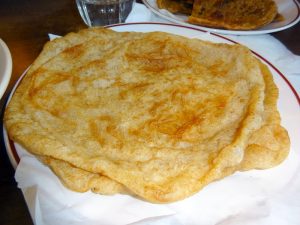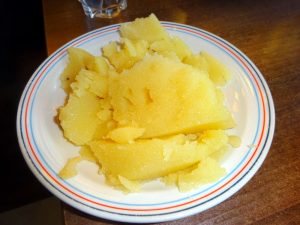 The Chana and two Puri arrived first. The Puri were not too Sweet, very Fresh and made an excellent base with which to scoop up the Chickpea Curry. I enjoy Chickpeas occasionally, today was such an Occasion. Potato was in the melange too.  The Spice and Seasoning were – Fine.  This would have made a Worthy Accompaniment to any Main Course, it was Savoury,  full of Flavour. The Halva was brought, a Mass of Something Sweet. Fortunately for Hector it bore no resemblance to that served in Jerusalem, this was – Quite Pleasant. I encouraged Les Autres to sample this, far too much of a sugar rush for Hector. All was consumed.
Desi Omellette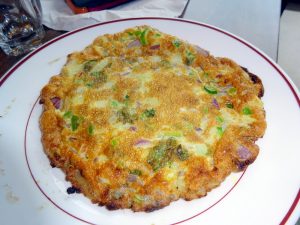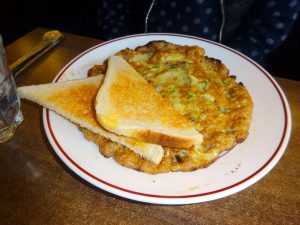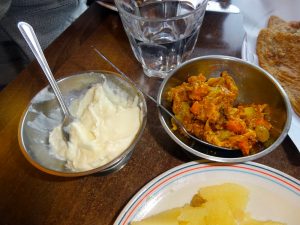 The Omelettes had substantial girth, clearly made with more than one Egg. Coriander, Onion and Spice were present, having seen this one wonders why you would make an Omelette any other way?
My Fellow Diners were all happy with their selections. Yoghurt and Lime Pickle made an appearance too, for the Toast? The latter was a bit excessive for this time of day.
Saag Sarsoo
This Paratha was Thin and stuffed with a layer of Spinach. I was assured it was good though it was not the Layered and Flaky style of Paratha I seek. I overcame temptation, two Puri was a lot to get through.
The Bill
£22.40. Hector was indeed charged for the Tea not taken. It is worth noting that almost a third of this total was for Coffee.
The Aftermath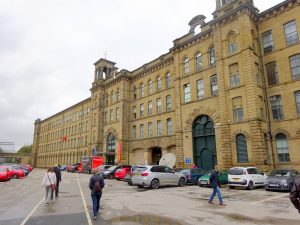 There was a stop off at Salts Mill, Saltaire for some shopping, before the main tourist attraction of the day. All will be revealed this evening when the penultimate Curry of this Trip is written.