… Only  Curry-Heute will satisfy
The beginning of the Hector Curry Saga was @1964 when Father, a master mariner, brought back a recipe for Indian Curry from one of the ship's crew.  Mother was duly dispatched to find the ingredients and Curry was made.  Hector, a young chap obviously at this time, did not know what was happening inside his mouth.  Being the 1960s, parents were not so sympathetic to the plight of their children, Hector was firmly told:
This is your dinner, eat it! 
There was major distress.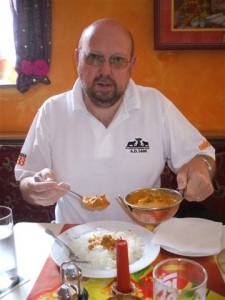 Mother on subsequent Curry Nights made a lesser version for Hector: it is strange how this practice continues for some guests to this day…  Within a year or so Hector was eating full blown Curry – bring it on…
The Green Gates
The first ever visit to an Indian Restaurant was to The Green Gates on Bank St in Glasgow's West End.  This has long since gone.   The Glasgow Curry Moguls will know who owned this outlet and whose family have gone on to operate the present day restaurants.  Any advice here is welcome.
In the company of my parents a broad minded friend from primary school and I ordered the Vindaloo!  The waiter looked at my Father: Give them it! that was the assurance required.  One cannot forget the first taste of this Curry, I refer to it in the Blogs as the – 1960s Glasgow Curry Taste.  Occasionally one finds it reappearing in some modern Desi dishes: it is uncompromising and HOT!
By my late teens at University I would pop in for a Curry at the Akbar in Cochrane St, off George Square,  mid afternoon before going home inevitably to discover that if my body was craving Curry, Mother's was too and this was the evening meal also.  Curry, twice in one day?
Hector has managed Curry three times in one day
The Noor Mahal on Kilmarnock Rd, Shawlands was also an oft visited outlet.  Unknown to Hector at this time a very young  'PJ' was doing the washing up.  After an evening of Bier at the former Mulberry Hotel there was the optimum conclusion which would involve partaking in more Curry.  It did not matter if two Curry shifts had already been completed.
For the purposes of research and sheer pleasure, this feat was most recently repeated in Bradford in November 2011.

Sri Lanka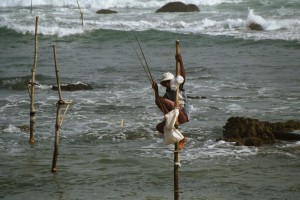 Hector honeymooned in 2003 with Marg in the Pearl of the Indian Ocean.  Curry for breakfast, lunch and dinner would have been ideal.  The coconut content beat Hector in the end and I was limited to Curry twice a day…every day…for seventeen days.

India
To celebrate Hector's Retiral, there was a nine day Trip to India in April 2016.  The Travel and Sights are covered here, the Curry is covered here.
Hector's Curry Rule
I have made it clear to friends over many years: do not suggest we go for a Curry then change your mind at the last minute: this is beyond torture and is therefore not accepted practice.
Learning to cook, properly…

Ten years ago, frustrated at the relatively poor Curry produced at home, I heard of a Curry course at Anniesland College.
The weeks here proved to be the most rewarding 'academic' course ever undertaken.
Hector now makes a mean Curry-Heute!