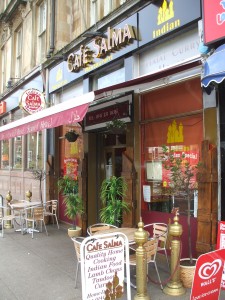 Operations Ceased – Thursday, July 25, 2013
This is not the end of The Saga – Marg and Hector met up with Hassan in Morocco – summer 2015!
Café Salma (523 Sauchiehall St, G3 7PQ)  became one of Hector's favourite Curry Houses from the very first visit in 2010, one of three favourite Glasgow Curry Houses north of the River Clyde.  The site (present tense) just west of the M8 motorway at Charing X (Glasgow) makes it a highly accessible location, minutes from the hotel zone, the King's Theatre and the main recreational part of Sauchiehall St.   Parking across the road at the terraces is not a problem in the evening.
The welcome from Hassan the proprietor, and his staff, was always warm and genuine.  Hector finally reached hug status.  As they came to recognise my arrival so the banter evolved.  In 2010 the wearing of national  dress was an interesting departure, the waiters developed towards a more typical black.  The place instantly has an endearing atmosphere, one was in the company of friends.
The ground floor café was my usual port of call. The downstairs restaurant was in two sections.  The main restaurant was downstairs, with an additional curtained section to the rear of this where families appeared to congregate.
Café Salma made a feature of the fact that it was an Authentic Moroccan Restaurant selling Tajine, Cous Cous and Brochette dishes.  Hector sampled one Tajine dish but the fine array of Curry Dishes on offer would tempt more.  Ironically, Hector subsequently had a Tajine as a seasonal gift and now cooks this cuisine at home.
The food could not be recommended too highly, genuine Desi Cooking.
                      The Ravi Machi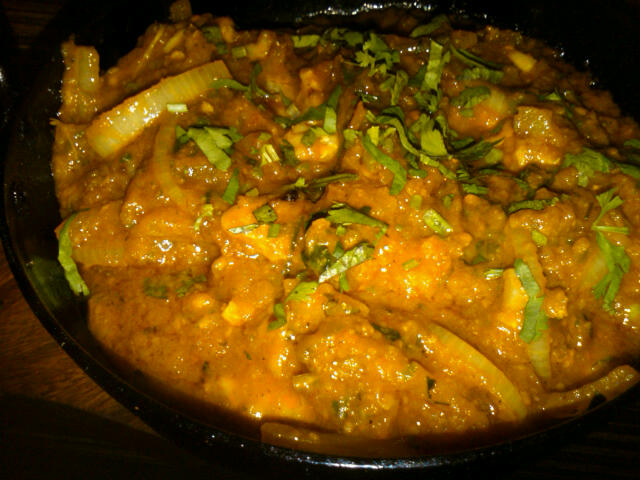 Kofta Bhuna                                                              Kofta Palak
The Ravi Machi was the only Fish Curry in Glasgow to rival that sold at Mother India's Cafe.  The Lamb Lahori Karahi was the Main Dish of choice on the majority of visits.   The  Kofta Palak became the legendary Dessert, though of course was eaten by most as a main meal.
This restaurant was highly suitable for dropping in for a quick Curry-fix or for a grand evening out.  There was no grander evening than October 7, 2011, when Hector had a celebratory dinner in the downstairs restaurant.  Twenty three diners all had a wonderful evening courtesy of Hassan and his crew.  Marg and Hector decided to restore the traditional costume for the evening, much to Hassan's delight.
2013 brought a New Delight to Hassan and Amel.
… sadly this prompted his return to Casablanca….

The New Cafe Salma did not last long.  Some of the original Cafe Salma staff set up Masala Zing, this did not last long …
Towards the end of 2015 Mia Sugar & Spice was born, finally we have  venue that does these premises justice.