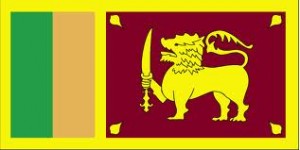 Back in 2003 Marg and Hector had spent ten days touring Sri Lanka before settling down for a relaxing few days in the very south of the country at Galle.  The Lighthouse Hotel is on the northern extremities of the city, a Tuk-Tuk ride from the centre.  By this time we had visited The Temple of The Tooth at Kandy, a tea plantation at Nuwara Eliya, the rock and temples at Sigirya and the magnificent temple site at Anuradhapurah.  To keep Marg content there was of course an elephant ride, a visit to the elephant orphanage at Pinnawala,  and the turtle hatchery at Kosgoda.  The latter was sadly destroyed by the Tsunami.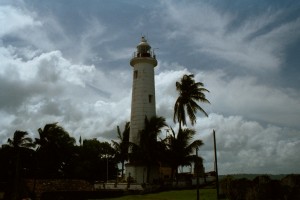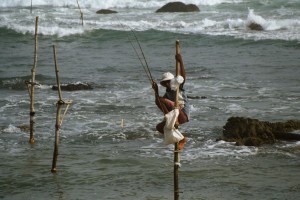 At Galle it became apparent that here was not much in the way of night life.  Visiting other hotels seemed pointless when our own was spectacular.  Two Curries a day was still the norm as part of each meal.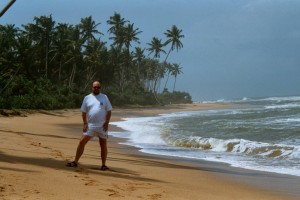 It was during a lunch that Hector noticed in the menu a sign stating that one could 'Meet the Chef'.  This was by arrangement and no time was wasted making an appointment.  The purpose of the visit was established: 'I wish to see how they cook their Curry, and please, not a coconut one, the dark one!'
On the due day, Marg and Hector were taken into the kitchen to meet the staff and shake the hand of the Chef, all very formal.  The spices were all displayed in individual bowls awaiting our inspection.  Chilli powder, Turmeric, Pepper, Salt , Garlic, Ginger, Onion and an interesting bowl of Fresh Vegetables, nothing out of the norm.  The next few minutes revealed everything.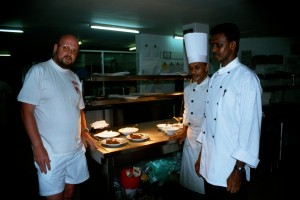 The spices were placed in a dry pan and not just roasted as many Sri Lanka recipes suggest, they were burned.  Well this is how it appeared to me at the time.  Back home when this was attempted nothing happened for a very long time and then the reaction became uncontrollable.  The kitchen became thick with smoke.  The house became thick with smoke.  The windows were opened, the back door, but still the house stank of burned 'Curry Powder' for days.  Some people think my house generally smells of Curry, they must be imagining things.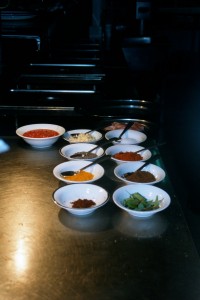 The roasting in the Lighthouse kitchen was clearly well under control.  One suspects they had done this before.  The actual cooking was mixing the Chicken with the Fresh Vegetables in as dry a  Masala as Hector had ever witnessed.  With hindsight one can now see that the Chetttinad style of cooking cannot be too far from this. 
The result of course was a Curry that one could only dream of.  The 'peppery' taste had revealed itself.  Postcards were sent with a full description of the process.  After nine years, one of these postcard sturned up thanks, Alan.  The recipe is now available.

Hector hadn't been born yet…